Jacuzzi continues SwimLife evolution
Jacuzzi has followed up the launch success of the 'extraordinary' SwimLife range with new sales and marketing initiatives for dealers in the UK market to capitalise on the increasing demand for swim spas.
Outstanding success has been achieved within the space of a year since Jacuzzi launched its SwimLife concept to the wet leisure trade that has become their most successful swim spa design to date; and has now achieved WhatSwimSpa? Best Buy Award-winning status for the second year running.
The SwimLife production team were always confident that the painstaking levels of design and technology within product development would result in one of the best swim spas on the market, with the proclamation that it was created 'for an extraordinary life' yet nobody could predict just how extremely well the cutting-edge swim spa concept would be received.
Among the significant accomplishments in the swim spa market success story is the flexibility designed for variable swim spa use to cater for individual requirements within the dedicated SwimFit and SwimExpert designs that include a swim spa and hot tub hybrid model. Hydrotherapy seating incorporates E-Class jets that help to deliver deep and soft tissue massage to various body parts.
SwimFit models are ideal for general aerobic workouts, whilst offering patented jet technology to provide a totally natural swimming experience. A step up in terms of fitness provision can be achieved with the SwimExpert models. These have been designed to accommodate a more professional swimming workout with higher levels of intensity available through the variable user-friendly swim current controls.
Coming in at 442 x 237 x 134cm and with a water capacity of 7,220 litres, the Jacuzzi SwimLife SwimFit 14 incorporates the new AquaFlex jet technology oval design that flattens the water for a smoother swim and has gained a Best Buy accolade in the £20,000 to £29,999 price range.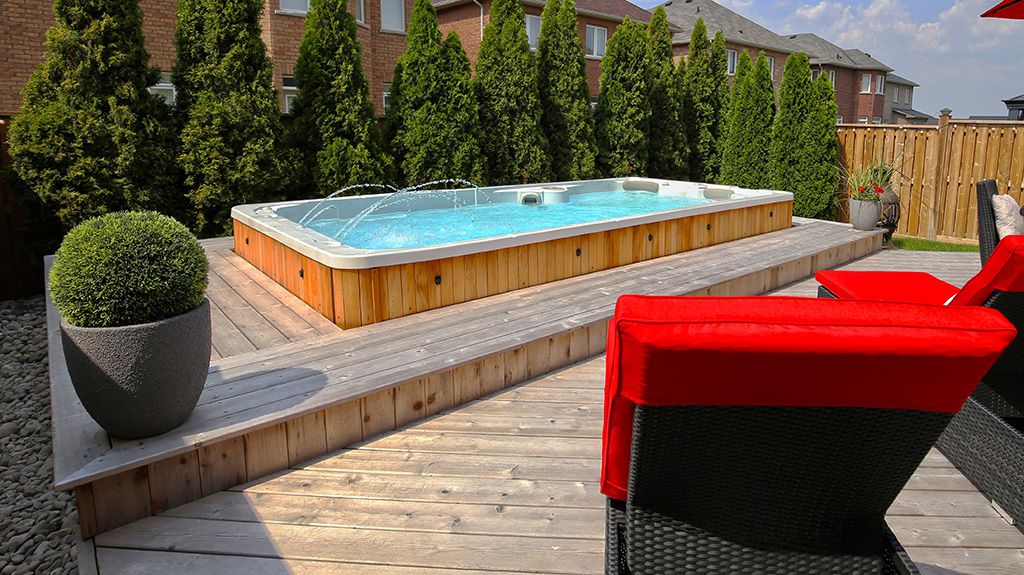 AquaFlex technology is also utilised by the other two models in this category that includes the SwimFit 17, pictured, which comes in at 534 x 237 x 134cm; and the SwimFit 19 Dual Temperature model, which comes in at 575 x 237 x 134cm.
With a water capacity of 9,120 litres and coming in at 534 x 237 x 134cm; the Jacuzzi Swim Life SwimExpert 17 incorporates the new AquaCurrent jet technology, which is combined with Waverider current control for a counter-current that is 'smooth and wide', according to the WhatSwimSpa? Verdict. In the £30,000 Plus price category of the 2019 edition of the consumer magazine.
Additional designs in this category also harness the AquaCurrent technology and include the SwimExpert 14, which comes in at 442 x 237 x 134cm; and the SwimExpert 19 Dual Temperature, which comes in at 575 x 237 x 134cm.
Incorporating the unique AquaChannel Shell design that ensures no reflective wave is created; the fledgling SwimLife models also benefit from the ClearStream filtration system; and the Thermalax Heat Management System that utilises the Northern HeatSync blanket to reflect the waste heat from the pumps back into the swim spa, while the Stormshield hard cover ensures heat is locked in for additional efficiently.
To ensure safety during home swim spa use, the Jacuzzi designers have incorporated anti-slip acrylic floors in all of the models available in the SwimLife range. This now ensures that they provide an ideal and safe environment for parents to teach their children how to swim without having the hassle of visiting a public swimming pool.
With the marketing boast for a new WhatSwimSpa? magazine advertising campaign that the SwimLife range is for 'when only the extraordinary will do'; Jacuzzi is aiming to continue to ride the wave of sales and marketing success with increased promotional activities to increase interest among consumers and generate extra footfall in dealer showrooms.
Specialist Jacuzzi retailer Hydrolife; which has showrooms in Surrey, Northants, and Cheshire; has recently attended the RHS Hampton Court Garden Festival as an exhibitor to promote Jacuzzi hot tub and SwimLife swim spa products and has also been helping the iconic brand dive into its SwimLife promotion by highlighting the benefits of swim spas over conventional pools.
After representing Jacuzzi at the Royal Cheshire County Show in June, Hydrolife won the Horticultural Society Four Star TradeStand Award during the RHS Hampton Court Palace Garden Festival earlier this month for its exhibition area that had Jacuzzi hot tubs and a swim spa on display that were available for visitors to view and gain further information about.
Hydrolife Marketing Manager Cara Bradney believes that there are two main reasons why there has been a boom in the demand for swim spa ownership.
"Firstly, it's a swimming pool, not a big hot tub;" declares Cara; "Which means it is a highly cost-effective way to have all the benefits of a swimming pool at a fraction of the cost.
"Secondly, it brilliantly mixes fun and fitness together, which we know is at the heart of a huge number of families across the country."
Cara has also highlighted the cost-efficiency, user-friendly design and maintenance, and size benefits of swim spas compared to the expense of building and maintaining a swimming pool.
"Tens of thousands of pounds are saved on buying, installing and running a swim spa," revealed Cara; "For less money focused reasons, it's all about space, almost any garden can have one.
"Just like looking after a hot tub, minimal time and effort is required with no costly specialist support needed. It is the only true 'swimming' aid, delivering an endless swimming experience, to train, develop ability and drive fitness in today's busy families."
The brace of 2019 WhatSwimSpa? Best Buy Awards, follow Jacuzzi gaining multiple 2019 WhatSpa? Best Buy Awards; which are for the Jacuzzi J-225, in the sub £5,999 price category; the Jacuzzi  J-235 IP, in the £6,000 to £7,999 price category; the Jacuzzi J-335 IP, in the £10,000 to £14,999 price range; and the Jacuzzi J-475 IP, in the £15,000 Plus price category.