Jacuzzi dealers preparing for J-500 promotion
Jacuzzi retailers are ramping up showroom promotion for the iconic brand's new J-575 and J-585 models that feature a unique PowerPro jet system and a curved woven exterior with an integrated architectural lighting system.
 A lounge seat has been designed within the J-575, which will be able to comofortably accommodate five to six adults, while the J585 has open seating for six to seven people. The two models have been unveiled as part of Jacuzzi's revolutionary J-500 Hot Tub Collection, which also include enhanced hydromassage features, touchscreen panel, smartphone app.
Jacuzzi, which has been awarded a WhatSpa? Best Buy Award for the six seater J-465IP that won rave plaudits in the WhatSpa? Verdict, has claimed to have raised the bar for hot tub performance with these new models.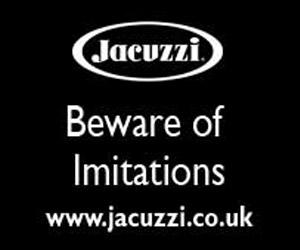 This is due to the fact that they will feature the debut of the exclusive new PowerPro(R) directional jet, providing an optimal and targeted hydromassage to the hips. Also within the new collection, Jacuzzi has installed new wrist jets into the upright seat in the J-585 model.
Interior features of the J-500 Collection have been designed to incorporate dual waterfalls with multi-colour illumination within a sleek and modern shape with an elevated silhouette.
A full-colour Pro-Touch Glass Control Panel allows users to easily adjust settings and functions, while a new smartphone app is being launched in the spring to provide remote operation and monitoring. The new collection also features an architectural lighting design integrated into the corners of the exterior skirt, providing a luminescent glow to enhance ownership.
Jacuzzi Vice President of Product Marketing Tracine Marroquin reported that the brand was excited to be launching the new collection as part of the manufacturer's commitment to enhance its product lines.
"We're excited to officially launch the most striking, sophisticated and technologically advanced collection of above-ground hot tubs ever created by Jacuzzi," said Tracine.
"We pride ourselves on continually enhancing our products in terms of design technology and hydrotherapy.
 "The J-500 Hot Tub Collection best represents our ongoing commitment to innovation and excellence."