Jacuzzi displaying historic hot tub pump
Jacuzzi will be exhibiting the original hydrotherapy pump that kickstarted the hot tub industry, plus a collection of original Jacuzzi images at this year's Goodwood Revival, on the Euphoria Lifestyle show stand.
 
In true Goodwood tradition, the team at hot tub retailer and Jacuzzi partners Euphoria Lifestyle, will also be wearing vintage attire to complete the retrospective Jacuzzi experience on their dedicated stand, located at 373, throughout the event this weekend that will include a Vulcan Air Display on Saturday, at 4:10pm; and a special Parade on Sunday, at 1:40pm, to mark the 75th anniversary of the Battle of Britain.
Euphoria Lifestyle Managing Director Mike Robinson declared that he is delighted that he has the opportunity to display the historic Jacuzzi original hydrotherapy pump and the brand's historic to visitors during the event.
"Visitors to our stand can expect to see a true museum artifact and will also be treated to viewing today's latest innovative Jacuzzi product," said Mike.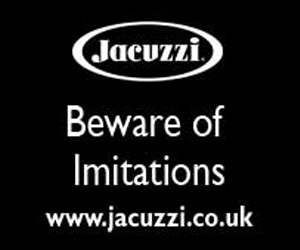 The original hydrotherapy pump was invented by the Jacuzzi brothers in 1956 to help a family member's health condition, and initially became a small niche business selling the portable pump to hospitals and schools.
 
By 1968, Roy Jacuzzi, a third generation family member and keen entrepreneur, sensed the growing American consumer interest in health, fitness and leisure and invented and marketed the first self-contained, fully integrated whirlpool bath. Incorporating body jets into the sides of the tub, it became the bath that almost single-handedly created an industry.
 
As larger units were designed to accommodate more people, Jacuzzi incorporated heating and filtration systems to keep the water warm and clean, leading to the creation of the first hot tub in 1970. Unlike the whirlpool baths, hot tubs could be used outdoors with this new heating system for the very first time. Today, Jacuzzi has become the most recognised and largest selling brand of jetted whirlpool baths, hot tubs and spas and sets the standard the world over.
"Jacuzzi is a household name and a brand that truly defined a new product, spawning a market in itself," said Mike.
 "Although there are now many replicas available, the original Jacuzzi hydrotherapy pump and its associated products are the genuine article when it comes to wellness and we are proud to showcase some of these exciting images and revisit the era where this legacy began."
Mike and his fellow Jacuzzi retailers have also gained an additional boost for their marketing capabilities after the brand landed multiple WhatSpa? Best Buy Awards to increase its long list of industry accolades achieved around the globe.
The iconic brand, which is also spearheading the promotion of the Sasha sauna range, has gained an additional promotional boost after being featured in the recently published inaugural issue of WhatSwimmingPool? in a special Sauna and Steam feature.
It comes hot on the heals of achieving record sales during recent years; which has coincided during the summer with a prestigious 'Best at Show' award at the 25th anniversary event of the Royal Horticultural Society Hampton Court Palace Flower Show.
There has also been a Top Sales Gold honour in the Europe, Middle East & Asia Awards for Outdoor Living Jacuzzi hot tub retailing duo Paul Margerison and Kevin Newby; and a high profile sponsorship deal with Luke Shelley of Jacuzzi dealership All Weather Leisure for the Jacuzzi logo to be emblazoned on his Luke Shelley Racing bike and leathers as well as his pit board this year with ESB Recruitment Racing. These achievements have all been enhanced with an impressive hat-trick of 2015 WhatSpa? Best Buy honours.
The highly-prized WhatSpa? Best Buys have been awarded to the six-seater J-245IP, coming in at 213 x 213 x 91cm; the five-seater J-335, coming in at 214 x 214 x 92cm with a lounge seat in its design; and J-575, coming in at 231 x 231 x 92cm, in the £12,000 + price category.
With a water capacity of 1,363 litres and 35 hydrotherapy jets, the J-245IP has now claimed the prestigious honour of three successive WhatSpa? Best Buys. This accolade has justified Jacuzzi's initiative to re-design the model in 2013, which has been rewarded with bumper sales during the ensuing period.
Following an upgrade in 2014, the J-335 is among eight models that have been introduced to the J-300 series as a new dimension in hot tub functionality and design, which promises to accommodate everyone from a cosy trio to a family of seven. It has received a WhatSpa? Best Buy Accolade in the £8,000 to £11,999 price band thanks to a host of new features.
Incorporating 40 hyrdotherapy jets, backlit pillows, re-designed waterfall and a re-engineered control panel, WhatSpa? has proclaimed it as being: 'unquestionably a beautifully styled family spa'. It also features a re-modelled lounge seat design with hamstring to Achilles massage and three accommodating corner bucket seats that have ensured it is giving the J-400 series range of Jacuzzi hot tubs a run for their money.
Jacuzzi has also been awarded its first ever WhatSpa? Best Buy Award for the J-575, which has 53 hydrotherapy jets and a water capacity of 1,685 litres. Thanks to its innovative design features from the world-leading hot tub manufacturing company it has won rave plaudits in the WhatSpa? Verdict in the high-end price category of £12,000+.
The verdict highlights the revolutionary new touch screen J-1000 control panel and waterproof remote and proclaims that the cutting-edge J-500 Series model is a 'real show-stopper'. It also goes on to declare that 'you've simply never seen a hot tub that looks like this!'
Jacuzzi Marketing Manager Paul Farrell revealed that the brand was delighted to gain another three WhatSpa? Best Buys to add to its previous tally and is now hoping to land additional accolades for the J-500 Series in the future.
"It's always great to be recognised in the industry and winning three awards is a big achievement," said Paul.
"Hopefully it will be the first of many for the new J500 Series!"
www.jacuzzi.co.uk