Jacuzzi retailer achieves Superbike personal best
Jacuzzi-sponsored British Superbike Championship rider and hot tub retailer Luke Shelley is aiming to continue his improved performances at the Brand Hatch GP on October 17 and 18 after gaining his first points of the season.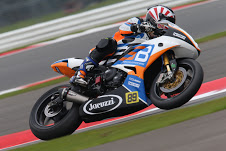 This year Luke of West Midlands-based Jacuzzi dealership All Weather Leisure has been riding with the Jacuzzi logo emblazoned on his Luke Shelley Racing bike, pictured, and leathers as well as his pit board this year with ESB Recruitment Racing.
Currently Luke is combining his testing and race day activities with his duties at the All Weather Leisure Showroom at the Shenstone Garden Centre, near Lichfield, which is offering zero per cent finance on purchases of Jacuzzi models as part of a 2015 stock clearance. The exclusive Jacuzzi dealership promotes the Jacuzzi 200 Range, including the WhatSpa? Best Buy Award-winning J-245IP; Jacuzzi 300 Range, including the WhatSpa? Best Buy Award-winning J-335; Jacuzzi 400 range; and the Jacuzzi 500 range; including the WhatSpa? Best Buy Award-winning J-575.
Luke also helps to promote the Jacuzzi J-LX models and Jacuzzi Professional models including the Alimia Professional that retails at just under £20,000; plus a host of products including the Jacuzzi Lodge Hot Tub Filter.
During Race 1 of Round 11 at Silverstone, in the British Superbike Championship, Luke secured tenth place with his personal best lap time.
 "I knew I had a disadvantage on the straights, so I knew I had to get a flying start and make as many places as I could before I hit the back straight," reported Luke.
"I got a great start and stayed on the outside through turn one making up two positions, I lost both of those on the straight but managed to gain four places on the brakes into turn seven.  
"From there I just kept my head down and kept pushing as hard as I could making up positions on the brakes all the time. We finished with my best result of the season in 10th and my first British Championship points and I got my personal best lap time of 2:14.2."
An additional PB lap time was then secured in the Feature Race, which resulted in Luke riding home to 12th place after battling with decreasing tyre grip.
"Again I got a good start but didn't make any progress on the first lap due to getting pushed wide into turn one," explained Luke; "I made up a few positions into 11th before the safety car came out, which was a shame as I had a seven second gap in front of 12th position.
"The race re started and I got passed down the back straight by three riders, I managed to get back passed into 12th straight away but then battled it out for 11th until the three laps to go and I ran out of grip from the tyre and settled for 12th.  I got another PB lap time of 2:13.7 which I was over the moon with."
Now Luke believes that his enjoyment of racing will help him continue his form at the Brand Hatch GP and has thanked his sponsors and support team for their tremendous backing this season.
"I'm really enjoying my riding again now and finally putting in the performances that my sponsors and supporters deserve," said Luke.
"We're going to end the season on a high this year and do us all proud to be apart of ESB Recruitment Racing. 
"I can't thank my sponsors and support team enough for all their help and assistance so far this season and with one round to go a Brand Hatch GP on October 17 and 18 it would be incredible to have additional support there as well."