L.A Spas joins MAAX Spas and Vita Spa stable
L.A Spas retailers have been promised enhanced marketing resources to increase their profitability following the acquisition of the brand by MAAX Spas and Vita Spa owner Brookfield Asset Management.
Although the fee has not yet been disclosed, the purchase of California-based L.A Spas is expected to be a multi-million dollar deal that makes Arizona-based MAAX Spas Industries Corporation, originated in 1969 with the founding of Modern Fiberglass and Metal, one of the largest hot tub and swim spa manufacturers in the USA.
It now propels the company, which first adopted the MAAX name in 1987 ahead of the manufacturer acquiring Coleman Spas and California Cooperage in 1997, to third position in the billion dollar spa and pool industry.
MAAX Spas VP Emil Nygard believes the purchase will not only be a major boost for the L.A Spas brand and its international dealer network, but also for the MAAX Spas, and Vita Spa suppliers around the globe. He reported that all three brands will benefit from a distribution expansion and marketing programs.
"With this acquisition, MAAX Spas will be in a terrific position to continue the growth of all our brands," said Emil.
"Operational efficiencies will support product innovation plans, while expanding our distribution network will make both national and international marketing programs more effective, ultimately creating more sales for all our dealers."
L.A Spas CEO Brad de Koning revealed that by joining the powerful Brookfield Asset Management wet leisure stable, the brand's retailers will gain the financial support and expanded marketing capabilities from one of the industry's manufacturing heavyweights.
"With this transaction, we've been able to achieve two things that were important to me," said Brad.
"First, L.A Spas' speciality retailers will be the beneficiaries of expanded marketing resources with which to drive sales and profitability. Second, our products will be manufactured in the USA by one of the best capitalised companies in the industry."
Product expansion and significant levels of investment by L.A Spas, which was founded in 1976, has reaped its rewards during the past three years with revenue growth of 55 per cent that has made the brand ripe for acquisition.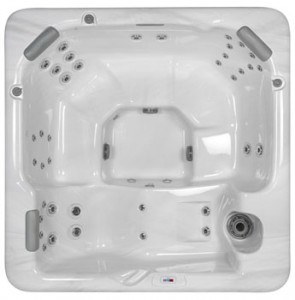 It follows success in the UK with increased sales thanks to hot tub innovations such as the Aqua Klean filtration system, promoted at the UK Pool & Spa Expo 2013 and SPATEX 2014 exhibitions in recent years, and a 2014 WhatSpa? Best Buy Award for the six-seater L.A Spas Belmar LX, pictured, that comes in at 211 x 211 x 89cm and is part of the Classic range.
MAAX Spas President John Johnson has also assured retailers that the senior leadership at MAAX Spas and L.A Spas believe both companies will benefit from the transaction and foresee a continuation of growth with the support of access to capital by Brookfield Asset Management, which has over $100billion in assets.
"By consolidating all operations into our Chandler facility, we will realise greater economies of scale, allowing us to deliver more value to our retail partners," said John.
"This move supplements MAAX Spas' strengths, which include developing market-driven products, best-in-class manufacturing and customer care."
L.A Spas and Vita Spa are booked to appear at the UK Pool and Spa Expo 2015 in January in Hall 10 at the Birmingham NEC. L.A Spas will be on Stand 130, while Vita Spa is on Stand 435.
The UK Pool and Spa Expo opening hours for the first two days of the show, on January 22 and 23, will be between 10am to 5:30pm. On Saturday, January 24, the third and final day of the UK Pool and Spa Expo is the Consumer Day that will be staged between 10am and 3pm for exhibitors in Hall 10 to meet with members of the public as well as trade representatives.
www.LAspas.com
www.MAAXspas.com
www.vitaspa.co.uk