Tour to promote heat pumps
1 Stop Spas Trade is 'on tour' to provide face-to-face promotion for heat pumps to help build on a new partnership with Poolstar as part of enhancing product awareness and sales promotion initiatives.
The Sleaford-based trade division of 1 Stop Spas, which attended the recent Lincolnshire Show as an exhibitor, had to postpone a planned 'Launch Seminar and Training' event due to a delay in the arrival of new products and instead decided to hit the roads to visit dealers to highlight the innovative Spawer air source heat pump technology. The initiative is being targeted at both sales and technical team members to highlight marketing, installations, and customer support for the heat pumps.
Along with showcasing the Spawer products, which include the Spawer IceSpa 7kW from Poolstar that has been bestowed with an inaugural 2023 WhatSpa? Air Source Heat Pump Best Buy Award as well as a 2023 WhatSwimSpa? Air Source Heat Pump Best Buy Award, the dealership tour is also providing instruction on how to promote the unique features of the products to prospective customers and assist in driving up sales.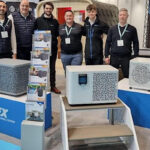 1 Stop Spas Trade Managing Director Chris Brady, pictured third from the right, who also is the official distributor of Tuff Spas for the UK and provides specialist SpaTech Training services, has praised Poolstar for its commitment to innovative products. These were promoted to the trade audience as part of the fledgling partnership earlier this year, pictured, during SPATEX 2023.
"Their commitment to innovation and their industry-leading heat pump technology align perfectly with our mission to provide top-quality products and services to our customers," enthused Chris.
Poolstar Country Manager Robert Smits said: "Poolstar is thrilled to join forces with 1 Stop Spas in this strategic partnership."