Leading brands facing Far East battle
Two leading USA hot tub brands will be battling against a major push from Far East companies seeking to gain ground in the European wet leisure market during Piscina & Wellness Barcelona this week.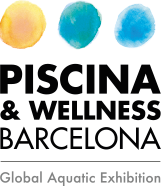 Artesian Spas and MAAX Spas will be flying the 'made in USA' manufactured flags among 62 per cent of exhibitors from abroad, including a large contingent of Chinese manufacturing representatives; while a host of Spanish companies will be aiming to help improve the country's economy at the Fira de Barcelona's Gran Via Exhibition Centre, from October 13 to 16.
Members of the Doncaster-based Artesian Spas distribution team, at their Street E Stand 533 exhibition area, will be highlighting the many cutting-edge features within Nevada-based May Manufacturing's extensive product choice in the extensive Platinum Elite, Island Spas, South Seas Spas, and Garden Spas hot tub stables; as well as the blossoming range of TidalFit swim spa models.
The MAAX Spas Netherlands stand, meanwhile, at Street C Stand 318, will be heavily promoting the Arizona-based manufacturing giant's appliance grade models that have a lifetime steel structure warranty and physician-designed MAAX Zone Therapy.
Other xhibitors at Piscina & Wellness Barcelona include: Abrisud, Street C Stand 456; Allseas Spas & Wellness, Street D Stand 416; Alchemist International, Street F Stand 612; All Island Group Pool Finish Supply, Street D Stand 410; AQA,  Street A Stand 156; Aqua Industrial Group, Street E Stand 562; AquaKita, Street B Stand 312; Aqualux International, Street C Stand 379; Aquazzi, Street F Stand 631; Archbond Ltd, Street G Stand 637; Artesian Spas Ltd, Street E Stand 533; ATG UV Technology, Street E Stand 543; Azenco Group, Street C Stand 396; BOSTA/BEVO Netherlands, Street F Stand 634; Calorex Heat Pumps & Dehumidifiers, Street F Stand 625; Dosatech, Street C Stand 334; Eco Finish Ltd, Street D, Stand 432; Elecro Engineering Ltd, Street B Stand 280; Europlast, Street D Stand 474; Fluidra, Street W Stand 10 and Street E Stand 552; Gerflor, Street W Stand 6; Hach Company/ETS Aquachek, Street A Stand 130; Hayward Pool Europe, Street F Stand 676; Intex Iberia MCS, Street C Stand 388; ITS Europe Ltd, Street F Stand 637; Keya, Street B Stand 232; La Motte Europe, Street G Stand 639; MAAX Spas Netherlands, Street C Stand 318; McGrayel Company Inc, Street A Stand 114, Passion Spas, Street B Stand 252; Technojet Systems, Street B Stand 237; Vistapool, Street C Stand 356.
Organisers are aiming to enhance the promotion of wellness during the bi-annual wet leisure showcase and have stressed that by bringing the dates forward, from the previous schedule, they can enhance the connection with a demanding sector that is looking for water-related facilities and uses associated with health, wellbeing and leisure; as part of the new brand name of Piscina & Wellness Barcelona and an upgraded image to promote the four-day event.
The exhibition's director, Josep Jonàs, is delighted that the increase in demand associated with health and water-induced wellbeing will be heavily promoted during Piscina & Wellness Barcelona 2015 and at future exhibitions.
"Water is the lifeblood of our sector and its new uses, which combine relaxation, sport, leisure, pleasure and health, are transforming the market and driving its growth," said Josep.
"This aspect is highlighted in the show's new image, with drops of water representing the areas of swimming pool, wellness and aquatic facilities, all converging in a global event which is sure to boost the business activity of the sector as a whole."
The exhibition will also be promoting the strength of the Spanish tourism industry, the third largest in the world, to present to hotels, rural guesthouses, spa resorts, campsites, and wellness centres a large range of small and medium-sized hydrotherapy pools, hydrothermal equipment, accessories and aquatic recreational facilities with which to enhance their establishments and provide their future customers with a host of new wet leisure and wellness benefits. 
President of the Piscina & Wellness Barcelona organising committee and chief executive of Fluidra Eloi Planes believes that the exhibition will provide a timely boost for the Spanish economy's recovery and help to enhance the world's fourth largest swimming pool market.
"Our show is attended by exhibitors and trade professionals from around 100 different countries with an interest in the Spanish swimming pool market, the second largest in Europe and fourth biggest in the world, and in the event's export connections with the Mediterranean Arc and Latin America," said Eloi.
"This is why, event after event, we try to adapt as fully as possible to market needs so we can provide new business opportunities and consolidate a recovery that has already begun."