Luke lands Jacuzzi sponsorship
Jacuzzi hot tub retailer Luke Shelley has secured a sponsorship deal with Jacuzzi Spa & Bath to help finance his racing bike dreams of launching a successful challenge for the Pirelli National Superstock Championships.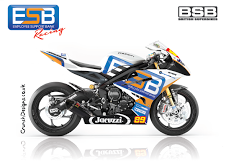 Luke, who helps to run exclusive Jacuzzi dealership All Weather Leisure in Tamworth with his father Liam, will now have the Jacuzzi logo on his  ESB Recruitment racing bike, pictured, and race leathers as well as his pit board this year.
"Securing this deal is perfect timing for me and it is also great for the hot tub industry," said Luke, "There are a lot of wealthy people involved in motor bike racing with disposable incomes that will see the Jacuzzi sponsorship.
"I'm delighted to now be able to represent the Jacuzzi brand on the race track as well as in our dedicated Jacuzzi showroom. This is the perfect sponsorship deal for me.
"If anyone speaks to me about Jacuzzi during the race meetings I know that I will be able to speak confidently about all aspects of the Jacuzzi brand and product range. It is also going to give me extra motivation to increase our Jacuzzi sales due to the financial support I've been given.
"Really, it's a double benefit for Jacuzzi because I'm going to be promoting their brand and hot tubs during the National Superstock Championships and also helping to increase their new customer levels this year."
Luke has recently confirmed his stay in the National Superstock 600 Championship with ESB Recruitment Racing for the 2015 season. He has returned to the class due to wanting to improve on his 2014 performance, as he struggled last year when switching bikes.
Now with the Jacuzzi sponsorship secured, he is ready to go, starting with his home race at DoningtonPark for Round 1 at the start of April. He will be sticking with the Triumph Daytona 675R bike that he knows really well now and will have the Jacuzzi logo on this season.
"Jacuzzi Spa & Bath have put their trust in me and now their sponsorship has given me the financial support to really make a challenge this season to win the championship.
"It is a massive boost for me and takes all of the financial pressure off me this season. Now that I'm fully financed for the first time ever my goal this year is to win the National Superstock Championships and then go onto the World Championships in 2016.
"I've only been doing this level of racing for three years and have achieved a race win and six podium finishes. No one has ever done that.
"I'm excited to remain with the same team ESB Recruitment Racing this season. I'm up for the challenge this year. Last season opened my eyes to how competitive this championship is."
Ahead of his first competitive race of the season, Luke will be heading for Spain this month to complete his pre-season training before Round 1 of the Superstock 600 race series roars into action at one of his favourite circuits at DonningtonPark from April 4 to 6.
"I've trained ten times harder and prepared myself for the battle this season," revealed Luke.
"I want to get onto the podium and fight for race wins again. Roll on Round 1 at DoningtonPark, one of my favorite circuits!"