Marquis gains Holiday Park 'hat-trick' honour
USA hot tub and swim spa manufacturer Marquis has gained a 'hat-trick' of Best Buy Awards after creating a trio of fully HSG282 compliant 'business use' domestic hot tubs for a specialist 'Holiday Park' range.
The rising popularity of hot tub holidays has resulted in the increasing demand for quality 'business use' domestic models that help to comply with HSG282 guidance from the Health and Safety Executive (HSE) and this year employee-owned Marquis has reacted by launching the Holiday Park Escape, the Holiday Park Getaway, and the Holiday Park Relax. They have various seating configurations but have all been produced with strict manufacturing standards to ensure that functionality and design features are truly applicable to the UK's holiday park market by being fully HSG282 compliant.
This production commitment for Marquis dealers in the UK to meet the demand from this thriving market has now been rewarded with the manufacturer gaining three prestigious WhatSpa? Holiday Park Special Best Buy Awards accolades.
In the inaugural edition of WhatSpa? Holiday Park Special the diminutive three-seater Holiday Park Relax, which comes in at 152 x 213 x 75cm, has gained its first Best Buy Award in the one to four seat category.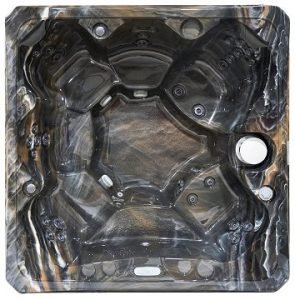 Coming in at 213 x 213 x 91cm, the five-seater Holiday Park Getaway, pictured, has gained a Best Buy Award in the five to six-seater category; while the imposing seven-seater Holiday Park Escape, which comes in at 220 x 220 x 91cm; has secured the triple honour and the hat-trick of Best Buy Awards by making its debut  in the seven-seater and above category of the WhatSpa? Holiday Park Special magazine.
Standard features of these three HSG282 fully compliant models, which meet the 250L per bather guidance, include a self-dosing in-line sanitisation system, ozone secondary sanitisation, 2" Quick Drain, continuous water filtration, and total turnover time in less than 15 minutes.
Marquis, which recently helped to grant its 800th Make-A-Wish donation with a Euphoria hot tub model to a boy with cerebral palsy in Minnesota, has also revealed that this trio will be expanded with further models. The latest designs follow in the footsteps of the specialised Holiday Vegas hot tub that paved the way for its successors, after making its debut last year and helping to gain immediate sales success.
Major orders for the Marquis models have been obtained from Forest Holidays; who have now become the first holiday chain to gain 'Certified Hot Tub Technician' status after successful tuition by SpaTech Training; which has now developed a new 'Holiday Park Safe Operator Course' that will be available from January 2019.
Managing Director of the training scheme Chris Brady, who operates his WhatSpa? Approved hot tub and swim spa 1 Stop Spas dealership in Lincolnshire, has helped Marquis to develop the new holiday park range and has been instrumental in Forest Holidays becoming one of the first companies to introduce it to their holiday park sites.
"Marquis has reacted to the demand by listening to our requirements and producing a specialist range of fully HSG282 compliant models that have been specifically designed and manufactured for the holiday park market to ensure they tick all of the boxes of the HSG282 guidance," said Chris.
"Due to the initial success of their first holiday park hot tub, and the increasing demand from the market, Marquis has now accelerated its development of this range to launch the three new models this year ahead of the 2019 season.
"Since it was launched last year, there is more awareness about HSG282. The new Marquis models will now help us to provide more choice for holiday parks and holiday cottage owners to comply with this HSE guidance.
"These Holiday Park hot tubs have different seating configurations so that can be matched up to the capacity of accommodation being provided by our hot tub holiday business clients.
"It will help them to maximise their bookings and increase revenue, while ensuring that they have a 'business use' hot tub that they can hire out in accordance with HSG282 requirements."
Dan Johnson, who won the 'Paul Kite Award for the Pool Star of the Year' at the 2011 SPATA Awards ceremony, serves the flourishing Marquis dealer network in the UK and believes that the latest holiday park hot tubs from the thriving manufacturing company will prove to be a hit in this market.
"These hot tubs have been designed specifically to meet all of the HSG282 guidance, but they also have a lot of elements that have made Marquis so popular in the international hot tub market," reported Dan.
"We've been very pleased with the interest that the launch of these products has generated and we're looking to progress the good quality sales leads from holiday businesses that want to increase their bookings with our fully HSG282 compliant hot tubs."