Marquis Spas showcasing ATV at Piscine Global
Marquis Spas will be officially launching its Aquatic Training Vessel to the European swim spa market at Piscine Global this week and promoting record hot tub sales that have been achieved in the UK.
During the four-day Piscine Global exhibition, commencing tomorrow and running to Friday, November 21 at Eurexpo Lyon, the iconic USA manufacturer will be promoting multiple hot tub and swim spa product opportunities to European retailers, as well as highlighting the flourishing Marquis Spa Dealer Direct scheme on Stand 5A82.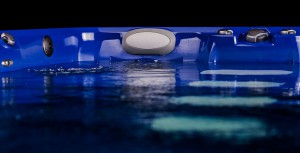 Taking centre stage at Piscine Global will be the new Aquatic Training Vessel (ATV), which comes in at 168.5" x 89.5" x 56" and has been produced with ultra-strong bonded polymer resins that are used in the construction of the marine industry's most expensive and rugged boat and yacht hulls.
The ATC, which was rolled out at the International Pool Spa Pation Expo in Florida earlier this month, is being promoted with the support of six-time Ironman World Champion Dave Scott. It is making its European debut in Lyon ahead of two exhibition appearances to target the British swim spa market with its unique patent-pending design, including innovative bowed sidelines, at the UK Pool & Spa Expo and SPATEX in January and February respectively.
Marquis Spas, who achieved a 2014 WhatSpa? Best Buy Award in the £6,000 to £7,900 category for the best-selling four-seater Spirit model, will also be highlighting its product expansion with the fledgling Microsilk technology in its hot tubs as well as its entry-level product line, Celebrity Hot Tubs, at the Lyon, Birmingham and Coventry-hosted exhibitions.
Director of Global Sales Steve Hasenmueller will be on hand to discuss the ATV, as well as the Dealer Direct strategy with retailers to enhance their showroom offerings with its advanced swim spa features, plus pedigree and entry-level hot tubs. He is also providing information about the flourishing demand for the Microsilk technology that has taken off in the USA.
"We are going to be showcasing our ATV for the first time in Lyon to the European and international trade," said Steve; "It has already made an impact in the USA on our stand at the International Pool Spa Patio Expo and now we are going to be targeting retailers in this continent.
"Microsilk is the real deal that has exploded in the USA for us and we will be using our attendance at Piscine Global, the UK Pool and Spa Expo and SPATEX to promote the technology and highlight that it is doing very well in Europe and the UK," said Steve.
"Our Dealer Direct strategy is really flourishing in the UK and the introduction of our entry-level product line, Celebrity Hot Tubs, has also been an effective tool for our retailer network this year."
Marquis Spas Vice President Jim Johnson has also travelled to France and will be patrolling the brand's imposing exhibition stand in Lyon to provide details about the enhanced product range that is helping dealers to target the high-end market.
"Our strategy during the economic downturn was to invest in production redevelopment and we have been reaping the rewards," said Jim; "Dealers are more confident and they are seeing the opportunity to target the top-end of the market with our hot tubs.
"Rather than relying on a distributor, we are now seeking dealers who want the capability of purchasing directly from us."
Marquis Spas will be providing comprehensive details of the ATV, the Dealer Direct scheme and complete product range to existing and prospective hot tub and swim spa retailers on Stand 5A82 during Piscine Global. Opening hours for visitors will be 9am to 6pm on Tuesday and Wednesday, November 18 and 19, and on the final day of the exhibition, Friday, November 21.
On Thursday, November 20, the exhibition is open from 9am to 9pm; which is going to be including the Evening Party of the exhibition, with last entrance for visitors at 7pm.
www.MarquisSpas.com