Master Spas tees up extra support
Master Spas has teed up extra support for St. Jude Children's Research Hospital as a charity sponsor of the 2023 Warburton Golf Tournament and with product donations to boost life-saving treatment.
The Warburton is the highest grossing tournament for Memphis-based St. Jude Children's Research Hospital, raising more than $26.5 million since the event began 13 years ago, and this year's recent four-day event at the JW Marriott Desert Springs in California raised more than $4.7million to help provide life-saving care to children battling cancer and other life-threatening diseases.
When St. Jude opened in 1962, childhood cancer was considered incurable. Since then, St. Jude has helped push the overall survival rate from 20 per cent to more than 80 per cent, and will not stop until no child dies from cancer.
More than 70 years ago the hospital's founder Danny Thomas was a young entertainer with a baby on the way. Work wasn't easy to come by, and his despair grew. He turned to St. Jude Thaddeus, the patron saint of hopeless causes, and vowed: "Show me my way in life, and I will build you a shrine."
That prayer marked a pivotal moment. Soon after, Danny began finding work and then went on to become one of the biggest stars of radio, film and television in his day. He was on 'Make Room for Daddy', which was later known as 'The Danny Thomas Show'.
Danny then used his fame to make good on his vow and to change the lives of thousands of children and families with the opening of St. Jude Children's Research Hospital on February 4, 1962 in front of a crowd of 9,000 people to commence the battle against catastrophic childhood diseases and revolutionise treatment worldwide.
Two days after helping St Jude celebrate its 29th anniversary Danny died in 1991 but his legacy continued to develop cutting-edge research and treatments before the hospital and the World Health Organisation (WHO) announced in 2018 a five-year collaboration to transform cancer care by curing at least 60 per cent of children with six of the most common kinds of cancer worldwide by 2030.
Families never receive a bill from St. Jude for treatment, travel, housing or food. Because of events like The Warburton Golf Tournament, St. Jude is able to continue to provide cutting-edge treatments not covered by insurance, at no cost to families.
The Warburton is an annual event that brings together celebrities, professional athletes, and top-tier golfers to support the hospital's work. Along with the golf tournament, the event also includes an auction and other activities designed to raise awareness and funds.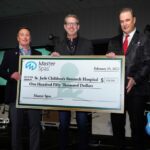 Master Spas donated a H2X Trainer 15 swim spa to the auction and presented St. Jude with a donation of $150,000, pictured, which was made on behalf of Master Spas and its worldwide network of specialty retailers. In addition, Master Spas donated a Michael Phelps Legend Series hot tub for the St. Jude Dream Home Giveaway raffle.
Fuelled by the company's mission and values, Master Spas has established a charitable giving initiative that supports multiple nonprofit organisations and charities, including St. Jude Children's Research Hospital. The Master Spas Care program extends beyond the company and to its global network of retailers.
"We are honoured to partner with the Warburton Golf Tournament and St. Jude Children's Research Hospital to support this important cause," said Master Spas Vice President of Sales and Marketing Kevin Richards.
"As a company, we are committed to making a positive impact in our community, and we believe that supporting St. Jude's mission to find cures for childhood diseases is a worthy cause."
Danny Thomas famously declared: "There are two kinds of people in this world. The givers and the takers. The takers sometimes eat better but the givers always sleep better."