Missing out on finance boom
A quarter of UK retailers are not capitalising on the rise in consumers spending on finance, according to new research that could influence hot tub showroom dealerships to increase this form of purchasing option.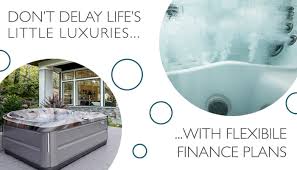 Jacuzzi, and its booming network of UK dealers, has been offering customers the capability to own one of its iconic hot tubs, including the 2019 WhatSpa? Best Buy Award-winning Jacuzzi J-225, as part of the 'Don't Delay Life's Little Luxuries…with Flexible Finance Plans' sales and marketing initiative to capitalising on the growing demand for hot tubs to be purchased with finance options. These include 'Buy Now Pay Later', with nothing to pay for 12 months; as well as well as the option of up to five years interest free credit; or the capability to spread the cost for up to ten years with options to make additional repayments at anytime.
As part of a 6.9 per cent APR Representative for the ten-year finance option; a cash price of £5,749, with a £100 Deposit, would result in £5,649 of credit. During the full 120 months of the agreement there would be 120 monthly payments of £64.71, with rate of interest 3.7 per cent per annum, fixed 6.9 per cent APR Representative; resulting in a total amount payable of £7,865.20.
Growing Coast Spas specialist network Award Leisure, which also exclusively supplies the Regency Spas range of hot tubs, has also been promoting ten-year finance deals to lure prospective customers into ownership of its wide range of wet leisure products.
Yet, following feedback for a new report by innovative finance solutions specialist Duologi that provides bespoke finance solutions for retailers across a wide range of sectors while utilising a point of sale technology-based platform that integrates with retailer's existing systems, there is now even greater demand for finance purchasing that is not being exploited fully by a large percentage of SMEs.
The report, 'Finance: an SME issue', surveyed 500 SMEs across a range of retail sectors about their concerns for the future and their knowledge and understanding of point-of-sale (POS) finance.
It revealed that consumer finance as a whole is on the rise. Now 16 per cent of consumers are purchasing on finance, rather than credit cards and bank loans, compared to just six per cent in 2017.
Moreover, 83 per cent of consumers said they would consider using point-of-sale (POS) finance in the future, compared to 78 per cent in 2017.
With 168,490 registered SME retailers in the UK, it means that approximately 42,000 businesses are not offering POS finance, and therefore missing out on this growing opportunity.
For the SME retailers that do offer finance as part of their business model, there is a certain degree of awareness around the business benefits it can bring. However, there is also a clear push from consumers.
More than a quarter (27 per cent) of retailers said that their customers simply expect finance in the current climate, with another 28 per cent saying that customers were directly asking them to provide it.
"Clearly consumer demand for finance is increasing and they are now more willing to borrow funds than ever before," said Duologi CEO Michael Bevan; "As such, there is a huge opportunity for SME retailers to offer a helping hand, as well as boost sales and their own bottom line.
"However, there are still a lot of retailers that aren't capitalising on this growing market, despite fierce competition and pressure to keep pace with the demands of this ever-changing industry.
"If retailers are to thrive in the future it's important that they are empowered with the knowledge and tools needed to excel. Fortunately, there are now a range of POS finance options available that are quick and easy to implement and can make paying by finance as easy as paying with a card."
Jacuzzi is one of the established suppliers to the hot tub holiday market and Jacuzzi National Sales Manager Martyn Winstone believes that finance options are becoming a popular method for businesses to spread the cost of gaining quality hot tub products for their holiday accommodation.
Martyn has revealed that holiday park companies are now 'bulk buying' hot tubs with finance options that are 100 per cent tax allowable and allow customers to spread the costs with monthly repayments that see a very rapid return on investment.
"The investment in hot tubs can be quickly recouped and then it's pure profit from then on," explained Martyn. "That is why more holiday parks are purchasing high quantities of hot tubs, like one of our customers that ordered 300!
"By taking out finance to obtain high numbers of quality hot tubs from us the holiday parks do not have to put a drain on their company's finances by outlaying lots of money in one go. The revenue from high booking levels will then be gained immediately."
Jacuzzi and Award Leisure are among the exhibitors at the Holiday Park & Resort Innovation exhibition being hosted over two days at the Birmingham NEC, on November 6 and 7.
www.jacuzzi.co.uk/jacuzzi-finance-deals