Modernisation pledge after double acquisition
Operational modernisation with extra resources to achieve a stronger marketplace position has been pledged after the acquisition of Artesian Spas and Marquis by middle-market private investment firm Monomoy Capital Partners.
Retailers of the WhatSpa? and WhatSwimSpa? Best Buy Award-winning hot tub and swim spa brands have been informed that the current products, people and performance from Las Vegas-based Artesian Spas and Oregon-based Marquis will serve as a strategic foundation for a new industry-leading pool and spa platform, as part of future modernisation to meet the requirements of a strong and growing market.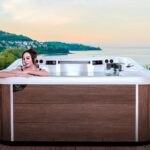 Both brands have been achieving success by proclaiming their USA-based manufacturing credentials for their products. These include the Artesian Elite and Island Spas hot tub ranges and TidalFit swim spas within five dedicated Artesian Spas lines from May Manufacturing with designs that incorporate the unique Direct Flow system technology, as in the award-winning Dove Canyon, pictured, and patented Helix jets, which are supplied to a thriving UK dealer network by Doncaster-based Artesian Spas UK; as well as the Vector and Crown hot tub ranges and Aquatic Training Vessel (ATV) swim spas by Marquis, which is famed for its product integration of MicroSilk technology for skin health benefits.
"A wealth of resources and expertise will now be available to help us modernise our operations and put infrastructure in place to take Artesian and Marquis hot tubs and swim spas to the next level," said a statement to dealers.
"We anticipate a range of benefits to help dealers achieve an even stronger position in the marketplace over the months and years ahead."
Monomoy's name is inspired by Monomoy Island that juts into the Nantucket Sound off the southern tip of Cape Cod, Massachusetts, and since 2005 the New York-based private investment company, with $2.7billion in committed capital, has provided middle-market businesses with strategic capital, management, and operational expertise capability to achieve sustainable success.
Along with the acquisition of Artesian Spas and Marquis, Florida-based leading precast building products manufacturer and distributor Cast-crete is another new acquisition joining current investments that include Klaussner Home Furnishings.