New and old faces join Superior Spas
Thriving Derbyshire-based hot tub and swim spa distributor Superior Spas have welcomed a trio of new recruits and the return of a former employee to provide increased technical and direct support for enhanced customer satisfaction.
After previously working as the Client Relations Manager for the Alfreton-based warehouse storage and logistics specialist Silver X Group, Gemma Cogan has now joined WhatSpa? and WhatSwimSpa? Best Buy Award-winning Superior Spas as Head of Customer Experience and will be bringing a wealth of customer service management experience to the role with the implementation of new processes to ensure customers receive the best experience at all times.
With 17 years of technical and product support experience at British Gas, Ben Duncan has now joined Superior Spas to boost the Technical Team ranks in his new role as Technical Support Engineer, in which he will be providing technical support to customers as well as helping to improve products and services. 
Boosting the expanding marketing team, Petra Nolan has come on board as a Marketing Assistant and Junior Designer and has been welcomed to the role by Superior Spas Head of Marketing Sarah Elphick..
"Petra has a wealth of experience and joins the growing marketing team to assist with our design and marketing whilst striving to increase brand awareness, sales and revenue," revealed Sarah.
Jay Lunn, meanwhile, has returned to Superior Spas as a hot tub engineer/technician and will be teaming up with Head Technician Nic Walker who won 'Employee of the Month' in July after being voted by his colleagues for his hard work, helpfulness despite being so busy with his own duties, and for creating training videos to help other members of the team.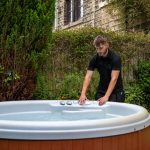 "I love the people here at Superior Spas," enthused Nic, pictured; "The family network we have here is unreal. I feel really supported and part of the family.
"I don't actually see it as work as I enjoy it so much. I love that fact that I've been able to progress and develop here. Superior Spas really do value their people and want to see them grow. I can highly recommend a career here – I love it!"
This year the Superior Spas, Platinum Spas and Be Well Spas brands, which the distributor supplies to a growing network of dealers and promoted to the UK trade with a large stand presence during SPATEX 2020, have achieved 2020 WhatSpa? Best Buy Award-winning recognition in multiple price categories.
Coming in at 210 x 210 x 95cm, the six-seater Platinum Spas Santorini has gained a WhatSpa? Best Buy Award in the sub-£5,999 price bracket of the consumer magazine, while the six-seater Platinum Spas Infinity, which also comes in at 210 x 210 x 95cm; and the five-seater Superior Spas Phoenix Lounge, which comes in at 208 x 208 x 91cm, have both gained 2020 Best Buy status in the £6,000 to £7,999 price range.
In the £8,000 to £9,999 price range, the newly-launched seven-seater Superior Spas Chicago Family, which comes in at 234 x 234 x 91cm, has made an instant impact by gaining an inaugural Best Buy accolade and is joined in this price category by the six-seater Be Well 0665 Montreal Luxury, which comes in at 221 x 221 x 92cm.
Swim spas from the thriving Superior Spas and Platinum Spas ranges have also gained 2020 WhatSwimSpa? Best Buy Awards. The Platinum Spas Neptune Dual Temp, and Superior Spas Pro Swim 13 have achieved prestigious recognition in the sub-£19,999 price category; while the Superior Spas Pro Swim 17 was bestowed with 2020 Best Buy status in the £20,000 to £29,999 price range.