New controlling Gecko shareholder
Gecko Alliance Group has announced a significant development in the evolution of its business after a group of investors led by NEXCAP Partners acquired a majority share in the Québec-based operation.
It has been proclaimed by Gecko that this transaction confirms and reinforces its position as a world leader in the design and manufacturing of control systems, keyboards, pumps and accessories for the hot tub industry. The company's cofounders, Benoit Laflamme and Michel Authier will continue to be involved in the company's strategic development.
They are both still shareholders and four key members of the executive committee have also become shareholders in this new venture. The current executive team will remain in place, with the following changes: Georges Marchildon, Vice-President of Manufacturing Operations, is now Chief Executive Officer (CEO), while Gregory McConnell, VP of Commercial Operations, is now Chief Revenue Officer (CRO).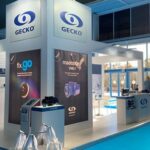 Following the announcement, Gecko is now gearing up to showcase the flx.go turn-n-press™ topside control, as well as the new VMS-1 and CMS-1 Maelstrom pumps, on its stands at the International Pool, Spa & Patio Expo in Las Vegas, and Piscine Global in Lyon, in November.
Founded in 1989, Gecko Alliance Group is a leader in the design and manufacturing of control systems, pumps and accessories for spas, supplying the majority of major spa manufacturers around the world. Gecko is based in Québec, Canada, and has manufacturing operations in Québec, Mexico and Nevada, as well as warehouses in Europe and China.
As an industry leader in innovation and customer experience, Gecko has experienced monumental growth in recent years and significantly increasing its market share, manufacturing capacity, R&D team and global brand recognition. Gecko remains committed to being an active innovator and engaged stakeholder in the spa and wellness industry.
Gecko's management, sales, delivery, and support teams will remain in place, and the company has made the commitment to continue to provide the same dedication and high-quality standards on which Gecko has built its solid reputation.
"From the customers' perspective, the change of ownership will be seamless and only beneficial," said a Gecko spokesperson; "This significant and long-term investment is a key accelerator towards further innovation and value creation for both spa users and the spa industry."