New five star X-Series hot tubs
Villeroy & Boch has ramped up its range of hot tubs with the launch of five new X-Series models that were showcased to the trade and consumer audience during the UK Pool & Spa Expo.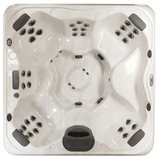 Promoted as being a 'new class of hot tubs', the German company introduced the X-Series, with five options including the three-seater X5L, five-seater X6L, six-seater X7L, which all incorporate lounge seats; as well as the eight-seater X8, pictured, and five-seater round X6R, to the British market on the Villeroy & Boch stand during the fourth edition of the wet leisure exhibition this week.
It was the brand's successive appearance at the Birmingham NEC venue that has hosted a double helping of the exhibition this year, which previously allowed Villeroy & Boch to promote its new touchscreen display and innovative seating concept that has been introduced to the multiple award-winning Just Silence model.
The five X-Series models have been incorporated with cutting-edge technology to allow UK and European Villeroy & Boch dealerships to provide prospective customers with a choice of models that have premium-style features, which have traditionally only been available in higher-end hot tubs. This includes the patented Endura Frame synthetic material technology used in production of the Villeroy & Boch Comfort Line and Premium Line models.
Manufactured as durable and robust with wood-free construction and full foaming and insulation within its UV-resistant acrylic shell, the design team behind the X-Series has also incorporated a new streamlined layout with shorter pipes resulting in extra power.
Standard features also include an ozonator and big filters, and stainless steel jets, while an audio system with Bluetooth connection is available as an optional extra.
After gaining critical acclaim from the industry for its Just Silence model, including a 2015 WhatSpa? Best Buy Award and becoming the first ever hot tub to land an 'Excellence in Product Design' accolade at the iF Design Awards in Munich earlier this year to boost its top-of-the range credentials, Villeroy & Boch is now aiming to set the technology standards in an additional price bracket.
Villeroy & Boch Global PR Manager Bath and Wellness Katrin May reported that despite the X-Series models being produced without the brand's JetPaks II technology they still have plenty of design features for dealers to promote to prospective customer, including the guaranteed power of the stainless steel jets thanks to the new pipe system.
"The new outdoor hot tubs in the X-Series from Villeroy & Boch are unique in their class and they stand for comfort, design and innovation," said Katrin.
"This hot tub series offers standards that are otherwise only found in the Premium segment.
"Thanks to a new intelligent pipe system, Villeroy & Boch has improved the established hot tub technology currently available in the market. Due to the reduction in piping, the hot tubs in the X-Series can guarantee full power at all jets. Fault-prone change-over valves for distributing the water volume are thus no longer required – that also improves ease of use."
Villeroy & Boch Wellness at Home Manager Dirk Peters helped to launch the X-Series to the British market at the UK Pool & Spa Expo and was keen to stress that despite the lower price tags for the five new models, compared to the Premium Line choices, dealers will still be able to promote the quality production of the new range that the iconic brand is famed for.
"There has been no compromise on quality," said Dirk; "We will start production in January and then build up our stock levels in time for our dealers to take the models into their showrooms for spring."
If you are interested in a dedicated UK-based role to help Dirk and his team to liaise directly with Villeroy & Boch's British dealer network, or would like to become one of the brand's specialist hot tub retailers, then email your details to infohottub@villeroy-boch.co.uk
To book exhibitor space for the fifth edition of the UK Pool & Spa Expo, set to run from October 23 to 25 in 2016, email: info@ukpoolspa-expo.co.uk or contact the New Events team directly on +44 1428 609382.