Next focus after new showroom launch
Flourishing hot tub and swim spa franchise network Award Leisure is ramping up the focus on energy-efficiency and chlorine-free self-dosing technology following the launch of a new showroom facility in Lutterworth.
After increasing promotion for Beachcomber Hot Tubs and highlighting advanced hydrotherapy following a visit to the Canadian headquarters where the iconic brand is produced, the family-run WhatSpa? Professional franchise network is now focussing on the energy-efficiency of the Hybrid 4 hot tubs with huge electricity savings, as well as the Clean Zone™ optional functionality for its own WhatSpa? Best Buy Award-winning British Hot Tubs range following a 'Grand Opening Day' for the Award Leisure Lutterworth showroom location at Unit 3 in Coventry Road.
The Hybrid 4 hot tubs are proclaimed to be able to save 33 per cent on electricity bills, and models include the 2022 WhatSpa? Best Buy Award-winning seven-seater Beachcomber Hybrid 360 design that comes in at 224cm x 203cm x 97cm and has gained recognition for its rock solid build quality and energy-efficiency and also incorporates the Hush Pump system within its design that reduces noise while cleaning and circulating the water 24/7 with low electricity usage.
"If running costs are a concern, it doesn't get much better than this," declares the WhatSpa? Verdict.
Clean Zone™, meanwhile, is a chlorine-free inbuilt self-dosing system that allows the water within a British Hot Tubs model to be sanitised gradually using bromine cartridges
"This helps to reduce maintenance and chemical consumption with the benefits of softer water and no harsh chemical odour," explains Award Leisure National Sales Manager Charlotte Anthony.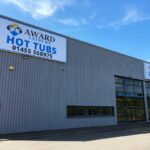 Along with the new showroom in Lutterworth, pictured, Award Leisure has invested in extra hot tub and swim spa warehouse storage capacity to ensure a large stock of hundreds of models is always available to new customers.
"This custom-built showroom can store over 500 hot tubs and swim spas," divulged Charlotte.
The franchise network has also moved its St Albans store to bigger and newer premises at the front of the retail park they are situated on.
"Now customers can enjoy a larger range of products on display," reported Charlotte Anthony.