Partnership within holding company structure
Artesian Spas and Marquis will operate under a parent holding company with their respective management teams working in partnership following the acquisition of the brands by middle-market private investment firm Monomoy Capital Partners.
During the last two years Artesian Spas and Marquis have experienced exceptional demand and growth and it has been reported that the new holding company will be seeking to capitalise on the strengths of each brand to continue to manufacture high-quality hot tubs and swim spa products to the global wet leisure market.
Monomoy, which has offices in New York, Kentucky, and Connecticut, has declared that the combination of the two businesses creates a multi-branded hot tub and swim spa manufacturer with a broad product portfolio and expansive dealer network. Artesian and Marquis will continue their operations under their respective brands to service the growing demand in the home improvement and outdoor living sectors.
Both brands have established a strong presence in the wet leisure market with 'Made in the USA' hot tub ranges and Artesian Spas currently has additional TidalFit swim spas, while Marquis has the Aquatic Training Vessel (ATV) swim spa options.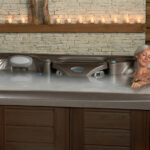 Marquis has gained additional success in the hot tub market with product integration of MicroSilk for skin health benefits within its products. pictured, and UK dealers that promote the technology have been given a sales and marketing boost by a newly-printed national newspaper review in the Daily Mail that highlights Marquis products and services from WhatSpa? Professional dealership Hot Tubs Oxfordshire.
"Artesian and Marquis have both experienced exceptional demand and growth over the past two years," said Monomoy Managing Director Lee Mlotek.
"The new holding company will leverage the strengths of each brand to deliver superior products made in the USA to the growing outdoor wellness market.
"We are excited to partner with the management teams as they scale their businesses together, and we look forward to bringing additional pool and spa brands to the platform in the future."
Marquis CEO John Schrenk believes the partnership with Artesian Spas and Monomoy will provide the capability for the high-quality products from both brands to increase their share in the market.
"Artesian has a stellar brand reputation," declared John, "We are pleased to be partnering with a company that shares our goal of producing high-quality products with industry-best customer service.
"Our combined partnership with Monomoy will allow us to continue to scale our two businesses."