Perfect time to promote watch
Jacuzzi specialist retailer Outdoor Living could have found the perfect time to promote a new waterproof watch by the iconic brand while rain hit their exhibition stand during the Great Yorkshire Show in Harrogate.
The new WaterWatch® has been launched to the wet leisure market by Jacuzzi to help owners to assess their performance while exercising in hot tubs, swim spas and pools. It is a major boost for Jacuzzi's extensive product range that is being promoted by Yorkshire-based Outdoor Living and a booming dealer network supplied and supported by Jacuzzi UK.
As part of product promotion for new models within the fledgling SwimLife range that was launched last year, Jacuzzi has introduced the lightweight WaterWatch to complement use of its cutting-edge swim spas that have again achieved WhatSwimSpa? Best Buy Awards in the 2019 edition of the consumer magazine.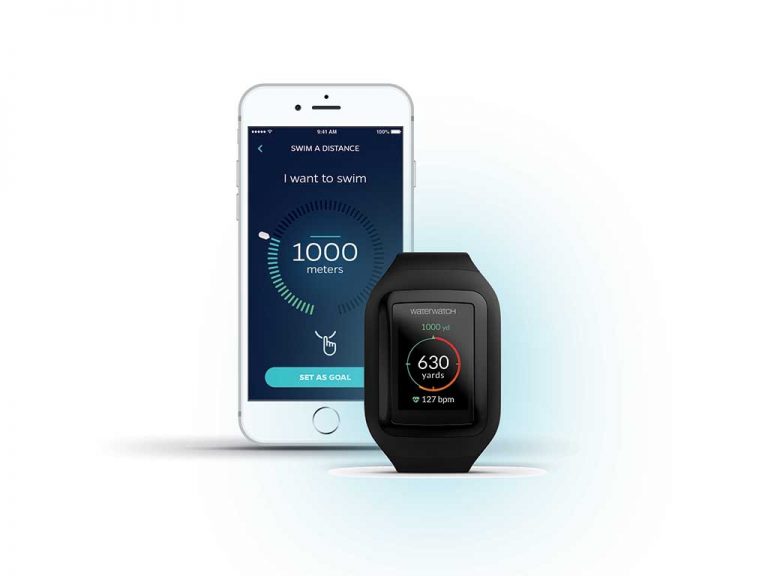 Advanced technology within the WaterWatch, pictured, allows users to track their goals, analyse performance, compete against others and even measure their heart rate so they can slow down, or speed up, depending on what they want to achieve from their swim spa session.
User-friendly capability from the WaterWatch also allows owners to pause their workout at any time and revisit their hot tub, swim spa or pool when they want to continue their swimming routine or exercises.
While the rain swept down over Harrogate yesterday the Outdoor Living team were in buoyant mood as sales leads were still being generated on the Jacuzzi exhibition stand at the Great Yorkshire Show. Attendance at the event is part of the leading Jacuzzi retailer's extensive high profile sales and marketing activities for the brand; which includes an advertising campaign to consumers in the 2019 edition of WhatSpa? magazine and a recent sponsorship deal with the Hull FC rugby team.
"Despite the weather not being what we hoped, the music is playing, deals are flowing and as predicted our water is crystal clear and perfectly balanced," reported an Outdoor Living spokesperson during the opening day of the event.
Coming in at 4.42 x 2.37 x 1.34m, the Jacuzzi SwimLife SwimFit 14 has been bestowed with a 2019 WhatSwimSpa? Best Buy Award in the £20,000 to £29,999 price range.
The WhatSwimSpa? Verdict highlights that the SwimFit 14, which has a water capacity of 7,220 litres, incorporates the new AquaFlex jet technology oval design that flattens the water for a smoother swim.
In the higher £30,000 Plus price category the Jacuzzi Swim Life SwimExpert 17, which comes in at 5.34 x 2.37 x 1.34m and has a water capacity of 9,120 litres, is proclaimed as a 'test-swim must' after gaining a WhatSwimSpa? Best Buy accolade.
As well as stating that the SwimExpert 17 is a 'great addition to the serious swimmer or triathlete training armoury', the WhatSwimSpa? Verdict enthuses that the new AquaCurrent jet technology, coupled with Waverider current control, makes for a counter-current that is 'smooth and wide'.
Meanwhile, Outdoor Living and Jacuzzi UK's thriving network of dealers, have been promoting the multiple WhatSpa? Best Buy Award-winning success for the brand with prestigious Best Buy honours for the Jacuzzi J-225, in the sub £5,999 price category; the Jacuzzi J-235 IP, in the £6,000 to £7,999 price category; the Jacuzzi J-335 IP, in the £10,000 to £14,999 price range; and the Jacuzzi J-475 IP in the £15,000 Plus price category.
Outdoor Living, which has showrooms in Leeds and Hull, will also be promoting the extensive range of Jacuzzi products at another major event next month during Country File Live at Castle Howard in North Yorkshire, from August 15 to 18.
www.outdoorlivinghottubs.co.uk