Perfect timing for new Platinum models
Enhanced Tuff Spas are being rolled out in the UK by exclusive distributor 1 Stop Spas as part of the latest promotion of hot tub energy-efficiency to domestic consumers and holiday let companies.
Following on from the Queen's Platinum Jubilee celebrations a dedicated Tuff Spas UK dealer network now has improved Tuff Spas models highlight to prospective owners, including the perfect launch timing of a new four-seater TT 250 Platinum, which comes in at 196cm x 153cm x 75cm; a TT 450 Platinum; which comes in at 196cm x 196cm x 89cm; as well as a five-seater Tuff Spas TT650 Platinum that comes in at 196cm x 196cm x 79cm and is currently on display, pictured, at the Sleaford-based flagship showroom of 1 Stop Spas.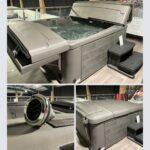 After celebrating its first anniversary of being the distributor for Tuff Spas, WhatSpa? Professional dealership 1 Stop Spas is now ramping up sales and marketing for the rugged WhatSpa? Best Buy Award-winning range that has had an overhaul for 2022, with new composite panelling, waterline lighting, Bluetooth audio on the Platinum models and a huge Tuff (Foot) Blaster Jet.
During the past year Tuff Spas have gained a foothold in the holiday let market that has helped to secure a prestigious parentship with Awaze UK, after linking up with Cottages.com with a 'Preferred Suppliers of Hot Tubs, Swim spas & Hot Tub Training Services' status agreement. Further promotion for the brand was showcased by the 1 Stop Spas team at the recent Lincolnshire Show after attending the Parks and Leisure Show in Stoneleigh.
1 Stop Spas Managing Director Chris Brady believes that that the flourishing brand will continue to gain popularity with hot tub holiday companies, as well as domestic users, due to the design efficiency of the models that are now being linked up to Air Source Heat Pumps, including the DuraTech technology, for greater energy-efficiency.
"The Tuff Spa range is perfect for holiday lets and home settings alike, with its robust hard top covers and no solid base requirement," explained Chris; "Tuff Spas are durable, easy to use and easy to maintain
"Tuff Spas are also one of the most efficient spas on the market, using heat lock technology, plus a full gasket sealed hard top cover, so when you add an Air Source heat pump, it becomes unbelievably low cost to run
"With the DuraTech Air Source heat pump, running a spa is now cheaper than ever."
The Tuff Spas models are now being promoted at www.tuffspas.co.uk as part of a new dedicated Tuff Spas UK website development.