PHTA boost for landscaping professionals
Pool & Hot Tub Alliance is leading a new educational feature for landscape professional at Equip Exposition after hosting a keynote presentation at the first 'live' World Aquatic Health Conference for three years.
Previously known as GIE+EXPO, Equip Exposition is one of the largest trade shows for the landscaping industry. Attendees are able to test new products, discover the latest industry trends, and take education and certification courses across a wide range of topics.
The Pool & Hot Tub Alliance (PHTA) will be providing four sessions for the Pool & Spa Education Track at this year's outing of Equip Exposition, running from October 18 to 21, in Louisville.
As a new feature for 2022, the Pool & Spa Education Track will teach landscape professionals how they can boost and expand their business and product offerings to include pool installation and design. The sessions will be taught by three GENESIS instructors with decades of landscape architecture and pool building and design experience:
"There has always been an overlap between the landscaping industry and the pool industry, but that overlap has really grown in the last two-and-a-half years as people focused on enhancing their yards and outdoor spaces during the pandemic," explains PHTA President and CEO Sabeena Hickman.
"We are thrilled to be able to introduce a new audience to this amazing industry through this opportunity with Equip Exposition."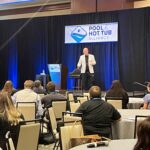 The Equip Exposition follows on immediately from the World Aquatic Health Conference (WAHC), hosted in Houston, Texas, last week, during which Rudy Stankowitz from Aquatic Facility Training & Consultants delivered an inspiring keynote presentation, pictured. He talked about the evolution of products, chlorine tablets, salt water generators, robotic cleaners, and also highlighted how the industry had grown after coming through the COVID-19 pandemic.
"Rudy Stankowitz is the perfect person to welcome everyone to the first in-person WAHC in three years," said Sabeena Hickman; "His passion for and commitment to the industry is clear in everything he does.
"He inspired the crowd as he talked about how the industry got through the pandemic and grew."
PHTA is also an official show sponsor for the 2022 outing of the International Pool Spa Patio Expo, which will be celebrating its 65th anniversary edition from November 15 to 17 in Las Vegas.
During the exhibition, in conjunction with Deck Expo, a 'Breakfast of Champions Powered by PHTA' will be a new relationship and idea-building event that is being run to connect industry subject matter experts with a group of peers to highlight solutions for specific chosen topics.