Piscine Connect returns for 2nd Edition of Digital Pool & Wellness Event
The October 2020 edition was so successful that, at the demand of pool and wellness professionals and jointly with the French Pool Professionals Federation (the FFP) GL Events Exhibitions is running Piscine Connect again on Wednesday 13th and Thursday 14th October, 2021.
Piscine Connect is the way the pool community keeps up with trends, changes and innovations in the years in which the bi-annual physical Piscine Global Europe Show is not held. Serving the Pool & Spa sector, Piscine Connect provides an intermediate solution and alternative way of meeting up to the live Show which will be held from 15th November to 18th November, 2022, serving to enable professionals to discover all the innovations within the market to facilitate meaningful comparisons and discussions.
Over and above making it possible for exhibiting suppliers to respect their sales launch schedules, this digital event, accessed via an application and a Web platform also targets a wider public, sometimes more distant geographically or less "mobile". In this way, manufacturers and buyers from around the world can network, chat, set up business video meetings and grow their businesses.
Both Piscine Connect 2020 feedback and features of the returning 2021 show can be seen from the graphics below: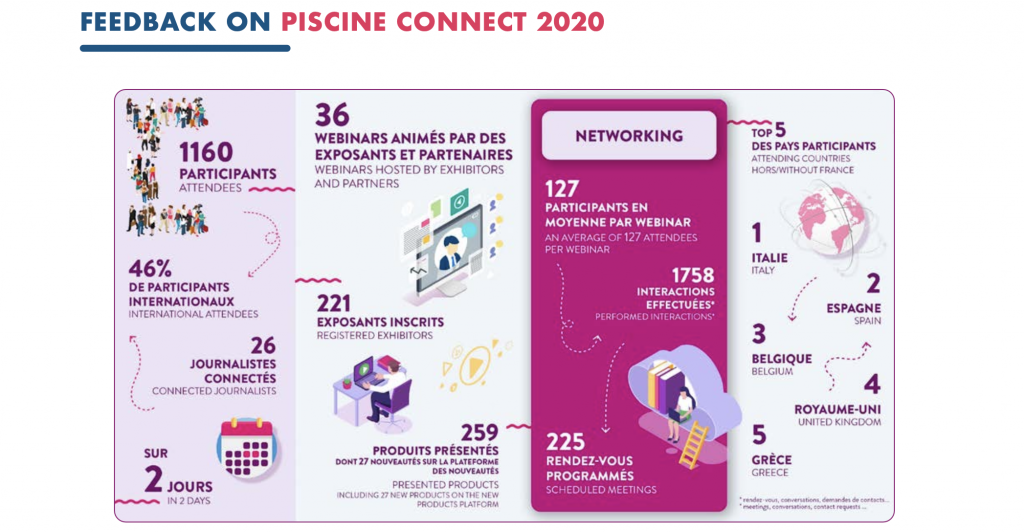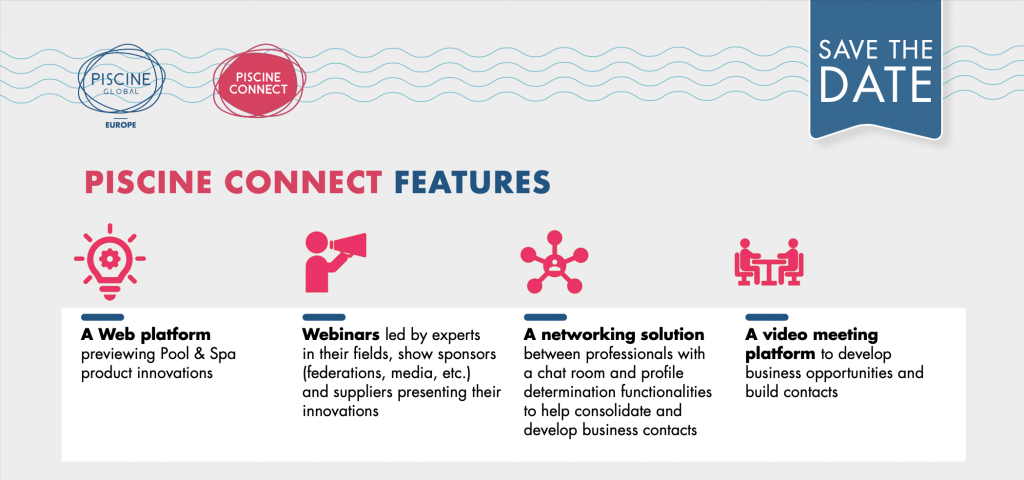 As suppliers, Piscine Connect 2021 can act as a relevant meeting to both reach your customers as well as find and attract new ones with the ability to:
Promote your new products and innovations to industry professionals thanks to the new products platform
Host commercial webinars to present your products to your customers and prospects (available live and in replay)
Find new clients or partners thanks to our networking tool
Schedule and make remote appointments (in video) with all the professionals of the Swimming pool and Spa community
More information regarding Piscine Connect 2021 can be found from their website:
https://www.piscine-global-europe.com/en