Praise for leading hot tub distributor
Vita Spa hot tub and swim spa distributor Aqua Warehouse Group has been praised by one of its leading dealerships Hydro-Active Pools and Spas ahead of launching a major investment project for the spring season.
Doncaster-based Hydro-Active Pools and Spas Director Andrew Price is among the established band of Vita Spa dealers that have been flourishing under the stewardship of Richard Hart and his Essex-based Aqua Warehouse Group team, which also supplies the L.A Spas range of hot tubs and swim spas to the British network of dealers.
Andrew has highlighted that Richard has been instrumental in helping to achieve many years of sales success with Vita Spa after converting the vast majority of prospective customers to become owners of the brand's pedigree range of products, including the WhatSpa? Best Buy Award-winning Prestige, which comes in at 211 x 211 x 97cm, manufactured in the USA by MAAX Spas.
Along with a number of other high-performance dealers, Andrew was honoured for his sales exploits with an Outstanding Achievement Award during the recent Vita Spa Seminar hosted by Aqua Warehouse at the Greenwood Hotel & Spa in Essex.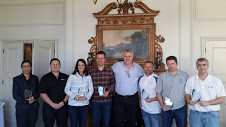 Andrew is pictured, third from the right next to Richard, at the Vita Spa Awards Ceremony presentation, and has declared that the distributor has been key to his dealership's efficiency to provide top quality hot tubs and swim spas to customers. His glowing praise comes ahead of him preparing to launch a dedicated new Vita Spa showroom to achieve further success with the brand this year, which is being enhanced with the innovative and unique Northern Exposure 3M Thinsulate insulation.
"Once again we had a really good year with our Vita Spa sales in 2015," said Andrew.
"The relationship we have with Richard Hart and his Vita Spa team is one of the best we've ever had with a distributor since we started in this market in 1998.
"We have a great relationship with Vita Spa distributor Aqua Warehouse Group and this helps us to promote the quality message to our prospective customers.
"Richard and his team help to cut out all of the possible red tape issues that could cause us problems and this is an essential part of our dealership success as it helps us to efficiently provide top quality models and excellent service for our customers."
Andrew has taken the decision to run two sites this year to help his family-run business to target different categories of prospective hot tub and swim spa customers. To focus on entry-level customers Andrew has transformed his existing Branton Garden centre site into a Superior Spas location, which will promote models manufactured by Hungary-based Wellis, while a new location will be dedicated to the Vita Spa brand.
"We've taken on the Superior Spas brand to offer an additional quality European manufactured choice of products and price points to our customers," reported Andrew.
"Rather than people seeking out cheap and poorly produced hot tubs from unreliable manufacturing sources they have this new option to purchase reliable models from a trusted dealership.
 "Our Branton Garden centre site will now be a dedicated Superior Spas show site, with the emphasis on a fun atmosphere to cater for demand from families seeking reputable entry-level models, while our second new showroom location is going to be launched this spring to showcase the pedigree Vita Spa range.
"We've invested a considerable amount of money in this new additional showroom to provide the best possible setting to promote quality hot tub and swim spas and our established Vita Spa dealership status.
"It has taken a lot of money, time and effort but it has been worth it to create a showroom with a quality atmosphere in a minimalist setting to showcase the Vita Spa models."