Prize incentives for SPATEX Virtual participation
SPATEX will be creating a historic chapter in its 25th outing with the SPATEX Virtual edition providing cash prizes for participation in the first ever digital version of the wet leisure showcase.
When the SPATEX Virtual exhibition launches for its inaugural online appearance on Tuesday, February 2, and over three days running to Thursday, February 4, it is providing online 'visitors' with the opportunity to gain product and training knowledge without having to travel to the traditional host location of the Ricoh Arena in Coventry. As an extra incentive there is the chance to win one of seven cash prizes; including the top prize that has been sponsored by leading distributor Superior Wellness, and second prize from thriving family-run franchise network Award Leisure Franchise.
SPATEX is going to be tracking the individual who records the most interaction with the virtual platform over the whole three-day online event to receive the top prize. Points are accrued by visiting an exhibitor's booth, viewing a video, or attending a seminar. First prize is £250, as part of the sponsorship deal with Superior Wellness; second prize is £175, sponsored by Awards Leisure Franchise; plus there will be an additional five prizes of £100 awarded by SPATEX Virtual.  
Superior Wellness will be seeking to promote its rebranded expansion plan to boost its presence as the UK's leading wet leisure product distributor, including WhatSpa? and WhatSwimSpa? and WhatSpa? Holiday Park Best Buy Award-winning designs, during SPATEX Virtual by highlighting its launch of the new Thermal Spas range of hot tubs and swim spas that will be complementing its current models of Superior Spas, and Platinum Spas, which has gained a 2021 WhatSpa? Holiday Park Best Buy Award for the five-seater Holiday Let 5, which comes in at 210 x 210 x 95cm.
Award Leisure Franchise has booked into the event to showcase a choice of Premium Dealership (limited availability) or full 'One-stop-shop' Franchise initiatives that incorporates the new WhatSpa? Best Buy Award-winning range of British Hot Tubs, which has gained a 2021 WhatSpa? Holiday Park Best Buy Award for the three-seater Mercury, which comes in at 212 x 150 x 83cm; five-seater Westwood, which comes in at 208 x 177 x 85cm; and the seven-seater Sterling, which comes in at 234 x 234 x 93cm.
British Hot Tub models will be joined by a 'proudly designed in the UK' range of swim spas that provide 48 variations; which allows customers to have the capability to build a swim spa that works for their own lifestyle.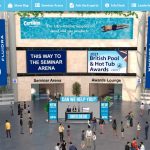 As with the traditional SPATEX event, registration for SPATEX Virtual is free and takes seconds to complete at: https://spatexvirtual.vfairs.com/en/registration This provides access to all the SPATEX Virtual exhibitors.
Once inside the digital exhibition you can visit the 'virtual booth' of: Ardex, Aqua Spa Supplies, Covana, Astral, Award Leisure Franchise, Beachcomber Hot Tubs, Certikin International, Electair, Gecko, Golden Coast, Golfinho Sports, Master Spas UK, My Wellness Engineering, O-Care, Pahlen, Paramount Pool Products, Plastica, Rigo Spa, Riptide, Superior Wellness, The Mosaic Spa Co, and USSPA sro.
These exhibitors will be providing availability to product and service information on their virtual booths with direct digital access to product manuals, brochures, demonstrations, , and videos.  For ultimate convenience you can simply click on the item of interest, place it in your virtual 'show bag' and at the end of your session, email it to yourself or others to then view when you choose. 
If, for example, you are interested in the Michael Phelps Wave Propulsion swim spa technology by manufacturing giant Master Spas that features in the MP Force Deep, the MP Signature Deep, and the MP Momentum Deep, then simply head to the Master Spas UK stand and fill up your 'show bag' with information on these state-of-the-art swim spas.
Master Spas UK has gained 2021 WhatSpa? Holiday Park Best Buy Awards for its Getaway Lodge range; including the four-seater Getaway Lodge GL4, which comes in at 215 x 178 x 87cm; and six-seater Getaway Lodge GL6, which comes in at 203 x 203 x 91cm; and is currently seeking to recruit professional dealers for its expanding network. Product information from the stand will be available for viewing 30 days after the three days of the live elements of the exhibition, as is the case with information promoted by other exhibitors.
Among these is Aqua Spa Supplies. To help boost your showroom product range with top quality water leisure accessories you could also click on the Aqua Spa Supplies stand that is launching a host of new products. These include a LEKTRA battery powered pool and spa vacuum broom, a Boreal rechargeable vacuum for spas and small pools, a Venturi pump, and the EGO3 hot tub filter. 
Also being exhibited at SPATEX Virtual is the Covana automated hot tub and swim spa cover technology that is distributed by Aqua Warehouse Group, which has also been promoting its development of the YourSpa App as a user-friendly way for hot tub holiday companies to collect and retrieve water test results data for HSG282 compliance. The technology, featured in the 2021 issue of WhatSpa? Holiday Park magazine, along with the Covana Horizon model, enhances HSG282 water testing requirements by utilising smart 'cloud' data storage capability with the convenience for hot tub holiday companies to take advantage of the advanced technology on their smartphone or mobile devices to allow them to log and retrieve data.
YourSpa App also provides users with the necessary prompts for all the important aspects of water testing, Then it sends the results to the cloud for safe storage and later delivers the details within a weekly email to the account holder who can then browse through that week's test data.
As part of the digital format, ISPE have also cleverly coordinated a programme of 20 'live', 'semi-live' and 'pre-recorded' seminars over the three days of SPATEX Virtual. Some of these seminars will then provide you with the opportunity to pose your own questions at the end of the session.
Ambassadors of PWTAG and the STA will be heading up a number of these talks, and some of the topics include Essential Health & Safety Updates, as well as the challenging issue of H&V and The Prevention of Spreading Covid in a Leisure Centre Environment. A user-friendly feature of the format includes a 'push notification' to remind you of the start of all the 'live' sessions.
Experts from ISPE, along with the BSPF, and PWTAG will also be manning a dedicated 'digital chatroom' to provide their free and impartial advice on all three days of SPATEX Virtual. 
At any point during your virtual visit, especially if you have a technical query about the digital platform; have a specific product related question, or you need pointing in the right direction, then you can simply click on the 'SPATEX Virtual Information Desk' to access the SPATEX team's immediate attention.
Following the traditional schedule format of SPATEX, there is a special 'after hours' presentation ceremony later on Tuesday afternoon, when you can head to the signposted 'Awards Lounge' on the SPATEX Virtual platform at 5pm for the digital edition of The British Pool & Hot Tub Awards. These incorporate the BISHTA Awards and SPATA Awards, as well as showcasing the ISPE Awards.