Promotion ramped up after headquarters visit
Thriving hot tub and swim spa franchise network Award Leisure is flying the flag for Beachcomber Hot Tubs and promoting advanced hydrotherapy after visiting the Canadian headquarters where the iconic brand is produced.
Award Leisure chief Mark Anthony and other members of the family-run WhatSpa? Professional franchise network visited the manufacturing facility to take part in sales training and factory tours to learn more about Beachcomber Hot Tubs and their industry-leading innovation and technology.
It is the first anniversary of the experienced wet leisure and outdoor product specialist franchise network company launching its new distribution deal with Beachcomber by promoting Special Edition Hot Tubs, including the 730 SE Hybrid4 that provides user-friendly voice command control capability on Amazon Echo or Google Home devices. As part of the launch promotion last year, Award Leisure rolled out dedicated Silver, Gold and Platinum packages for Beachcomber dealers.
As part of its latest Beachcomber promotions for this year, Award Leisure has been ramping up marketing for the iconic brand by running a 'Why choose a Beachcomber?' social media promotional campaign to highlight the brand's advanced energy-efficiency and peace of mind ownership with water-tight guarantees.
The network has also been highlighting customisable hydrotherapy functionality, along with a survey that highlighted 98.4 per cent of Beachcomber Hot Tub owners would recommend their hot tubs to family and friends, and the fact that 84 per cent rated their overall hot tub ownership experience as 'the best'.
Award Leisure showrooms, which include the recently-launched Award Leisure Newcastle location, have been inviting prospective owners to conduct Beachcomber wet test research by visiting a showroom for a test or pre-booking a private wet test.
In addition, Award Leisure is enticing prospective customers to let their aches and pains swirl away by obtaining their own fully customisable Flexjet™ Massage Therapy System, which is proclaimed to provide the 'ultimate hydrotherapy massage', as part of a standard feature on the entire line of Beachcomber Hot Tubs.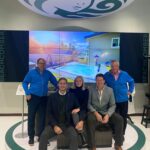 "These massage jets provide a variety of options and have been designed to target different parts of the body to relieve muscle aches, pains, stress and even anxiety," divulged Award Leisure National Sales Manager Charlotte Anthony, pictured centre during the visit to Beachcomber Hot Tubs.
Award Leisure showrooms, which also exclusively supply WhatSpa? Best Buy Award and WhatSwimSpa? Best Buy Award-winning British Hot Tubs hot tubs and swim spas, have also been running 'Buy Now Pay Next Year' promotions and a Valentine's Competition with the opportunity to win an aromatherapy gift set that includes a Heart Rubber Duck, before the deadline for entries at 4pm tomorrow, February 11.