Promotional boost from Wellness Ambassador
Jacuzzi UK has recruited best-selling author, TV presenter and ITV's 'Loose Women' host Andrea McLean to become the brand's first official Jacuzzi Wellness Ambassador and help promote the physical and mental health benefits of advanced hydrotherapy.
As part of her new role as Jacuzzi Wellness Ambassador, Andrea will now be providing a hydrotherapy promotional boost in 2021 for the thriving Jacuzzi UK dealer network of WhatSpa? Approved retailers by sharing all the ways Jacuzzi products can promote good physical and mental health. Andrea will also be highlighting how her new Jacuzzi J-475 hot tub will help enrich her own wellness and the time she spends with her husband and children.
"One of the things I'm really looking forward to is the whole idea of tip-toeing out into the back garden, lifting the lid, feeling the heat, and sliding in to have a bit of time to myself," revealed Andrea.
Like many parents, Andrea previously found it impossible to find a place where all her family could gather. Now, like many parents, Andrea is utilising her WhatSpa? Best Buy Award-winning J-475, which comes in at 231 x 231 x 113cm and incorporates RX Jet Therapy Lounge seating within its design capacity for six people, to get the conversation flowing with her children and husband.
Within the 2020 WhatSpa? Verdict for the J-475, which gained Best Buy status in the £15,000 Plus category, the design is proclaimed as a 'real showstopper with its dramatic curved high back profile, designer styling and state-of-the-art equipment'. The verdict also highlights new style touches, such as the wide sheet waterfall, striking corner cabinet lighting and diverter controls that also serve as cup holders.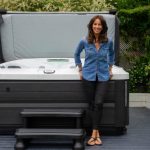 "I'm using my Jacuzzi to get the whole family together," divulged Andrea, pictured next to her new J-475; "We're a family with teenagers, and trying to get everyone in one place at the same time is impossible."
When her career was put on hold due to ill health and a nervous breakdown in 2019, Andrea received thousands of messages from women going through similar situations and this inspired her to write a best-selling health and wellness book: 'This Girl is on Fire: How to Live, Learn and Thrive in a Life you Love'.
This in turn provided the motivation for Andrea and husband Nick Feeney to collaborate on a new website www.thisgirlisonfire.com, which has uplifting content to support and empower women.
"'Last year I had a nervous breakdown and this year the world has had a breakdown," said Andrea; "This year I've been really mentally strong to deal with everything the pandemic has thrown at us."
As well as gaining a WhatSpa? Best Buy Award for the J-475, Jacuzzi has also been bestowed with additional Best Buy accolades for the six seater J-235IP, in the £6,000 to £7,999 price category; the five-seater J-325IP, in the £8,000 to £9,999 price range; and six-seater J-335IP, in the £10,000 to £14,999 price range.
A swim spa duo from the blossoming SwimLife swim spas range by Jacuzzi also gained 2020 WhatSwimSpa? Best Buy Award-winning status. The SwimLife SwimFit 14 was bestowed with a Best Buy Award in the £20,000 to £29,999 price range; while the SwimLife SwimExpert 17 achieved Best Buy accolade recognition in the £30,000 Plus category.