Rapid low-cost heating results
Hydro-Heater has been launched as a portable rapid water heater that can product exceptional low-cost results to raise the temperature from cold to optimum hot tub level in under one hour.
The British designed and manufactured product was showcased at SPATEX 2023 as an improved method to achieve low-cost hot tub water heating efficiency from the 60kW diesel boiler technology within the 120kg unit. It is being promoted as an ideal product for use in conjunction with other highly-efficient primary heat sources, including air source heat pumps, to achieve lower running costs.
After achieving success with this process of rapidly heating water at festivals and outdoor events for ten years, Hydro-Heater Managing Director David Donald decided to design a dedicated product and have it produced by an established British manufacturer. He has revealed that the technology produces results 20 times faster than a traditional 3kW electric heater and believes that the new product is unique in the market.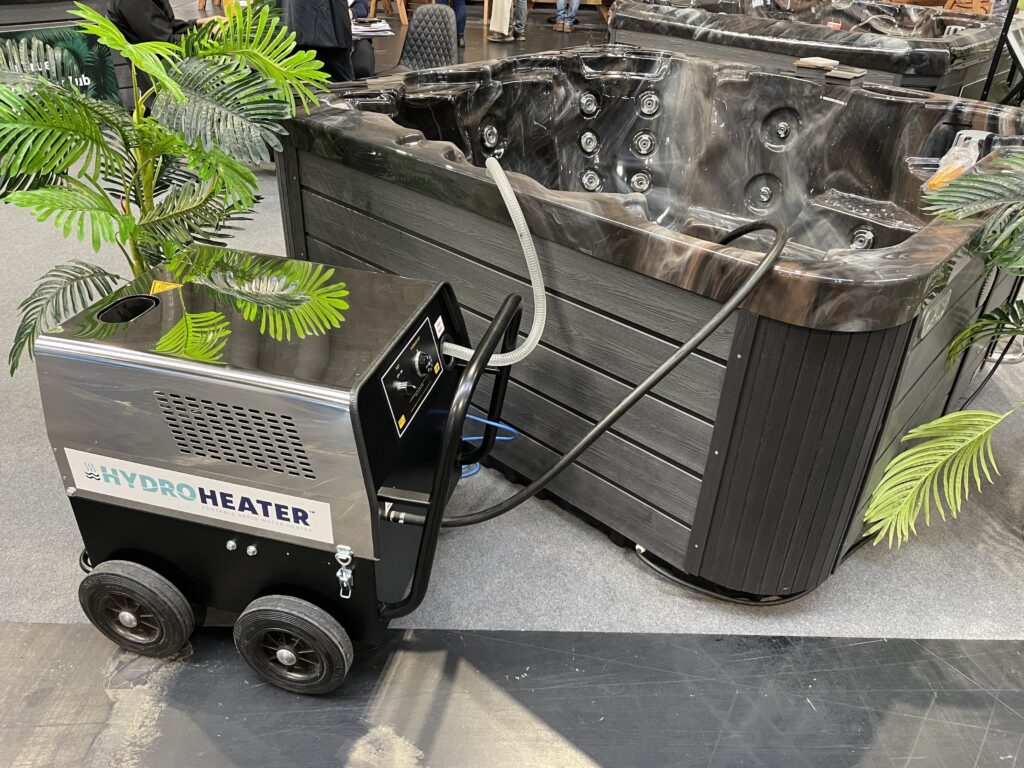 As part of the launch for Hydro-Heater, pictured, it is being highlighted that the operating cost is 8.2p per kWhi using Kerosene 28.heating oil. Fuel consumption is approximately 5L per hour. The diesel tank with a float switch has a 20L capacity and is located under the protection of a rust-proof stainless steel outer cover.
Within the portable unit's durable design, which complies with UK and European health and safety and environmental protection standards, there is a direct mains fill mode. Safety features also include a thermostat control, flow switch, and safety valve.
David Donald reported that he has received high levels of interest in his Hydro-Heater product and believes it can help hot tub dealers and hot tub hire companies to combat the record levels of energy costs.
"I don't think that there is anything else like this in the market," proclaimed David Donald.
"This technology has been field testing by our events company Splash and Tickle for ten years and we know that it works.
"It has become a crucial bit of kit for us and we believe that it can also be popular in the hot tub market, especially with hot tub hire companies. The time-saving and cost-saving benefits alone are extremely impressive.
"As an event company we rely heavily on the Hydro-Heater to ensure we can get our spas and pools up to temperature as fast as possible to meet tight deadlines when setting up for live events and festivals, or carrying out overnight water changes."