Record 700 Series hot tub sales
Hot tub distributor Aqua Warehouse Group has reported that consumers are continuing to be attracted to the pedigree high-end Vita Spa models after securing a bumper year of record sales for the brand's 700 Series.
Ahead of the Aqua Warehouse Group's preparations to roll out enhanced Vita Spa models with new Northern Exposure 3M Thinsulate insulation to its British dealer network it has been revealed that sales of the 700 Series surged by 28 per cent last year.
The large jump in sales has followed enhanced dealer training for the USA manufactured 700 Series, which includes the six to seven-seater Cabaret that is Vita Spa's fourth best-selling model and was on display at the November outing of the UK Pool & Spa Expo that has now been renamed the Hot Tub Living Expo.
Among the Cabaret's stablemates is the six-seater Fontaine, which Aqua Warehouse chief Richard Hart launched during the inaugural UK Pool & Spa Expo in 2013 at the Birmingham NEC. Other options in the series include the five to six-seater Chateau, the six to seven-seater Nuage, as well as the six-seater Mystique and Rendezvous models.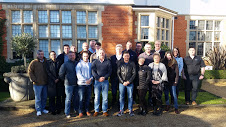 Dealers, pictured, who attended the recent Vita Spa Seminar event hosted at the Greenwood Hotel & Spa in Essex by the Aqua Warehouse team, which also supplies L.A Spas models to UK dealers, were informed that their efforts to promote the Vita Spa 700 Series had paid off handsomely during the previous 12 months.
"It's been hard work for us in the last three years to get to this stage but we're really seeing the benefits now," said Richard Hart.
"Our dealers are being given the right training to give them confidence to recoup the benefits of higher sales by speaking about the products effectively and highlighting lots of the luxury features that are available as standard. They've also got the extended warranties and 'lifetime guarantees' on the frames to promote.
"We've been able to service the requirements of our dealers all along and the right dealers in the right places are still going to be made welcome.
"We've got everything set up to help our dealers achieve their goals and people who've had their eye on us for a number of years are now talking to us about opportunities that we can make available to them."
Vita Spa Dealer Manager Graham Message also reported that, along with a large increase in 700 Series hot tub customers, there had been a significant increase in Vita Spa models across the board, as well as a surge in swim spa sales during 2015, as demand for the Vita Spa xStream range, which was boosted by a WhatSwimSpa? Best Buy Award accolade for the XPS, has surged to record levels compared to the 2014 figures.
"Once again Vita Spa sales were up across the board and significantly the Vita Spa luxury 700 Series was up by 28 per cent, while the swim spa series was up by 30 per cent," divulged Graham.
"This success has been achieved with the same amount of loyal dealers that we've had in the previous year. Just by supporting them and working well with them they've been helping the Vita Spa brand to make significant sales increases."
VIP guests at the Vita Spa Seminar were high-ranking representatives from the manufacturing company responsible for Vita Spa and L.A Spas including Maax Spas Corporation CEO John Johnson, Factory Manager Jerry Keller, and Director of Business Development Jim McClure.
The interactive nature of the seminar allowed for a busy and varied agenda, which included an in-depth report on the industry by John Johnson, while Jerry Keller captivated the dealer audience with new developments including the exciting Northern Exposure Insulations that incorporates both Copper and 3M Thinsulate, which will help the brand make a major step forward in energy-efficiency this year.
Graham believes the new Northern Exposure 3M Thinsulate insulation will provide a major boost for Vita Spa hot tub dealers this year and beyond. The new design technology, which will also be available for L.A Spas models, was officially launched on the Aqua Warehouse Group's stand at the UK Pool & Spa Expo in November.
"Everyone is aware of this insulation brand due to it being so popular in outdoor clothing and hats and gloves," said Graham. "So it is naturally causing a great deal of interest, especially as our dealers can see the potential it has for marketing and promotional purposes.
"This is certainly fantastic news for our dealers and it's something that we're going to be heavily promoting this year.
"I never thought that we could improve on the existing insulation but we have certainly done that now and taken the next step of taking it up another level."
Richard Hart reported that once again all of his Vita Spa dealers were given their democratic opportunity to vote on all major aspects of retailing the brand; such as the pricing and marketing for the year ahead.
"This democratic opportunity is so refreshing for our dealers," said Richard. "We don't force anything. We listen and allow the network to decide the important matters."
Following on from the previous year's Seminar talk on the many valuable aspects of Facebook, the Vita Spa dealers were enthralled this time round with a talk by an ex-BBC journalist/producer who provided hands-on training on how to take good quality video and edit it on a mobile phone.
The Seminar was rounded off with an Awards Presentation by Richard that rewarded the achievements of five dealers that performed exceptionally during 2015. These were: Lincoln-based 1 Stop Spas, Hot Tubs Hampshire, Doncaster-based Hydro Active, Surrey-based Pools & Spas Windlesham, and Wadebridge-based Spyrys.