Record demand stretches resources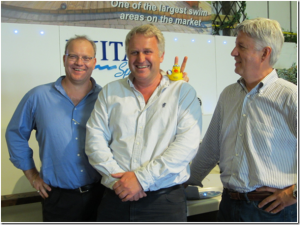 AquaWarehouse Managing Director and Vita Spa distributor Richard Hart has had the enjoyable problem of being stretched to capacity this year thanks to a 40 per cent increase in sales.
Richard and his team have followed up a stunning debut at the UK Pool and Spa Expo with the launch of the Fontaine, and celebrity endorsements from Olympic gymnast and Strictly Come Dancing Champion Louis Smith and Big Brother's Josie Gibson, to record a stunning performance in sales compared to last year.
"It has been an outstanding year for us," said Richard; "Our sales are 40 per cent up on our 2012 totals.
"The growth in sales has put a strain on our stock levels but that is certainly a problem I don't mind, because it illustrates our hot tubs are in demand!"
The record-breaking year has coincided with a visit to Richard's Chelmsford headquarters from Vita Spas CEO John Johnson, which was organised by Vita Spas Director of Business Development Jim McClure to finalise logistics ahead of 2014.
"We've had an incredible year so far where we have greatly improved our market share in the UK, which stretched us," said Richard.
"This productive visit has enabled us to finalise a substantial increase in our stocking levels ahead of next year and further enhancing our progressive position within the UK market place."