Retailer inspires Marquis holiday hot tub
Proactive hot tub retailer and 1 Stop Spas chief Chris Brady has linked up with Marquis to help launch a new model that has been designed specifically for use in the holiday park market.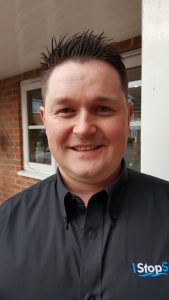 Chris, pictured, was among leading hot tub distributors and wet leisure specialists who booked into the Holiday Park & Resort Innovation show at the Birmingham NEC and had a display model of the new Marquis model named the Holiday Vegas, which 'ticks all of the boxes' for HSG282 guidance compliance, during the event as part of the joint promotion of his SpaTech Training scheme in association with BISHTA and the new 'Holiday Park Hot Tub Management' course for operators of hot tubs within the UK tourism trade.
Coming in at 213.36cm x 213.36cm x 86.36cm, the five-seater Holiday Vegas has 50 jets and two pumps and has been designed with Ozone secondary sanitisation, continuous water filtration and a total water turnover time of less than 15 minutes.
Following the official launch at the Holiday Park & Resort Innovation show, the Holiday Vegas is now being promoted by the Marquis dealer network as being the very first hot tub to fully comply with the Health and Safety Executive's technical specifications and control of legionella and other infectious agents in spa-pool systems in the HSG282 guidance released in January 2017 that applies to hot tubs being installed and operated in the holiday park market.
With durable graphite jetting, an 'Advanced Ozone' system, a self-dosing in-line sanitisation system, and 1401L water capacity, the open seating design of Holiday Vegas model is suitable for 'domestic private' use and 'business' use, and not suitable for commercial use. It complies fully with all of the specification requirements in the HSG282 guidance from the HSE; which requires 250L of water per seat and a built in in-line sanitisation system.
Additional design features of the Holiday Vegas, which has been produced specifically without any water features, include minimal user controls and full parameter LED lighting. The auxiliary topside control panel has been designed to be used specifically by 'guest users' only to allow simple and user-friendly access to the control for the pump and light operations.
"We're delighted to be launching  the new Holiday Vegas from Marquis and report that it is the UK's very first hot tub to be fully compliant with HSG282," said Chris.
"This model has been specifically designed and manufactured for the holiday park market by Marquis with our recommendations to ensure it ticks all of the boxes of the HSG282 guidance that, for example, now requires the capability to be able to provide 250L of water per seat in the hot tub."
BISHTA member and WhatSpa? Approved Marquis and Vita Spa hot tub and swim spa retailing specialist Chris also used the two-day stint at the Holiday Park & Resort Innovation show to enhance his marketing and awareness campaign for the new 'Holiday Park Hot Tub Management' course aimed at holiday parks and duty risk holders as part of his SpaTech Training scheme.
Chris promoted the SpaTech Training scheme during the 21st anniversary edition of SPATEX at the Ricoh Arena in Coventry and has reported that he has since been delighted with the response from dealers in the British hot tub market and the demand for specifically designed courses focusing on technical and safety related tuition and professional development within the industry.
As an APSP Approved Training Provider and in association with BISHTA, the SpaTech Training courses cover a broad spectrum of tuition that includes: APSP Certified Hot Tub Technician Course; Hot Tub Specific Manual Handling; Water Chemistry Training; Forklift Initial and Refresher Training; Hiab Training; Telehandler Training; First Aid at Work; and Fire Safety Training; as well as the latest Holiday Park Hot Tub Management Course.
"We've had a great response from the industry and have been working with BISHTA to create further awareness and demand for the specific industry-related training," divulged Chris. "We're now linking up with BISHTA again as part of the promotion to target the holiday park market with our new Holiday Park Hot Tub Management course.
"We'll also be providing training to local authorities to help them understand the implications of the HSG282 guidance and to help establish a level playing field in the way that the new guidance is interpreted and monitored."
To register your interest for SpaTech Training or to confirm a course booking call 01522 300737 or visit www.spatechtraining.co.uk for further details.