Retailer of Excellence on course for best ever sales
Catalina Spas dealership All Swim is on course to make history by surpassing its all-time sales record under the stewardship of multi BISHTA and SPATA award-winning retailer Jane Veysey.
The current 2014 SPATA 'Retailer of Excellence' and 2013 and 2014 BISHTA 'Showroom of the Year' and 'Hot Tub Website' Gold Award winner is set to achieve the best ever annual sales total in her family-run dealership's 42 years of trading, which has coincided with a 30 per cent increase in swim spa sales.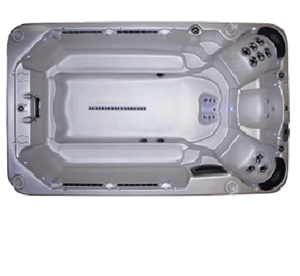 From award-winning showroom headquarters at the Link Trade Park in Penarth Road, Cardiff, All Swim supplies Catalina's wide range of hot tub and swim spa models, including the 2014 WhatSwimSpa? Best Buy Award-winning Mardi Gras model, coming in at 3.81 x 2.28 x 1.09m with 11 spa seats; plus the five-seater 2014 WhatSpa? Best Buy Award-winning Ez Spa, coming in at 198 x 168 x 81cm, manufactured by DreamMaker Spas.
Along with her company's longstanding in-ground self-build swimming pool kits service, DIY kits, supplies and chemicals, Jane and her husband Andrew are currently promoting Certikin, Plastica and SCP product lines across the south Wales region; as well as a couple of inflatable hot tubs; barrel saunas; plus Cedartree Cedar Lodge gazebos; and Thatched Gazebos by Lapa.
"We're currently trading at our second highest ever level and we are not far off beating our all-time sales record," reported Jane, who is featured under the 'Hot Profile' spotlight in HTR magazine's winter issue.
"All of our efforts have now been rewarded this year, which has been an exceptional one for our sales, as well as coinciding with the SPATA and BISHTA Awards success during the past couple of years.
"We've experience phenomenal growth in sales of swim spas this year and already we have increased last year's total by 30 per cent."
Catalina Spas Ltd chief Stephen Crabb, who has forged a swim spa alliance with Certikin, reported that the brand had increased its sales this year.
"Once again we've increased our overall sales total," said Stephen; "Sales haven't really slowed down all year and we're still getting sales even at the end of the year.
"It has been steady growth for us and we will probably be at the ten per cent increase for 2014, compared to our 2013 figures. Our swim spa partnership with Certikin is also flourishing."
Stephen and his Catalina Spas team will be appearing on Stand C4 to showcase hot tub and swim spa products during the second appearance of SPATEX in the West Midlands.
Certikin International, representing the Caldera Spas brand, will also be promoting the Catalina Spas swim spa alliance for prospective dealers while occupying Stand D10 and Stand D14 throughout the three-day exhibition at the start of February.
BISHTA and SPATA will be sharing exhibition space with BSPF on Stand H1 at SPATEX at the start of February and hosting the 2015 Awards Ceremony at the Ricoh Arena, which All Swim has entered again in the hope of landing successive honours, following the culmination of the first day of the wet leisure showcase during the second appearance for the exhibition in Coventry.
SPATEX 2015 opening times for the first two days of the exhibition at the Ricoh Arena will be 9:30am on Sunday, February 1 and Monday, February 2. Both days are then scheduled to officially finish at 5pm. In keeping with tradition, there is a shorter day on the third and final 'Spa Day' on Tuesday, February 3, which will run from 9:30am to 4pm.