Returning new role with ARDEX UK
ARDEX UK has welcomed back Julian Clarke to the company in his new role as Business Development Manager for the Midlands following a ten-year stint with a soft flooring company.
Julian was previously with ARDEX for six years, and worked throughout the Midlands and Northern Ireland dealing with architects, local authorities, main contractors and subcontractors and was heavily involved in the McDonald's national refurbishment contract.
He then moved onto a specification role for Heckmondwike FB Ltd, where he predominantly worked within the public sector managing successful PFI and PPP projects.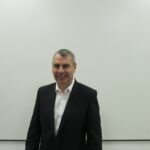 Julian, pictured, has now revealed that he is delighted to be back with ARDEX UK as part of the Business Development Team, at a time when the Haverhill-based company, which is a specialist manufacturer of construction materials for the tiling, flooring, and general construction trade within the ARDEX Group, has established a strong 'quality solutions' reputation.
"It is fantastic to be back with a company that really are seen as quality solution providers throughout the tiling industry," said Julian.
Meanwhile the company, which has developed tiling solutions that are being targeted at the wet leisure trade during SPATEX 2022, has recently made a £2,000 donation to the Haverhill Reach charity that works to help people out of poverty by providing services and support to get them back on their feet.
"ARDEX recognises the outstanding work they provide to the community, which is why we have chosen the charity to receive a donation from us to support their amazing work," said ARDEX UK Managing Director Peter Bell.
CEO of Reach Henry Wilson MBE welcomed the donation and revealed: "This is fantastic support and will go a long way in helping many families struggling to keep their homes warm and put food on the table."