Reward for Catalan manufacturer
Aquavia Spa parent company Iberspa has gained recognition for its dedication to competitive environmentally-friendly hot tub and swim spa manufacturing and constant production evolution after hosting an inauguration day for new facilities.
After suffering a fire disaster three years ago, the innovative Catalan manufacturer has bounced back and received the award, pictured, for the most competitive Medium-Sized Company in Catalonia that has highlighted the company's achievement to build on a solid platform in the market and expand exports for its hot tub and swim spa designs.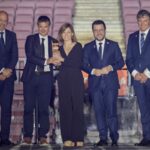 "This award is a recognition of the work done in recent years," said an Iberspa spokesperson;  "The Iberspa team has managed to place Iberspa in a solid position that allows us to face the future with confidence."
Following the recovery from the fire in July of 2019, the company has recently opened its new production site and offices, which have been promoting the 2022 WhatSwimSpa? Best Buy Award for the Fitness Swim Spa and held an inauguration day at the new warehouse facility in the industrial area of Cervera.
Around 400 people; including workers, company representatives, customers, and local authority representatives; attended the event, that involved a guided tour to showcase the new premises, and highlight production qualities that have helped the company to achieve the ISO14001:2015 certificate for environmental management.
"The inauguration of our facilities was a complete success!" reported the Ibera spokesperson.
Aquavia Spa options, which were promoted to SPATEX 2022 trade visitors, are currently being showcased in the UK by WhatSpa? Professional dealership Euphoria Lifestyle in Washington, West Sussex.
These include the recently launched Essence, as well as the Quantum Spa, Home Spa, and Cube Ergo models that are among the 85 per cent of production for the export market; while the remaining 15 per cent is dedicated to Spanish customers that have continued to grow since manufacturing for the Aquavia Spa brand commenced in 1988.