Jacuzzi has been celebrating achieving a blooming hot tub first success after being awarded a prestigious 'Best at Show' award at the 25th anniversary event of the Royal Horticultural Society Hampton Court Palace Flower Show.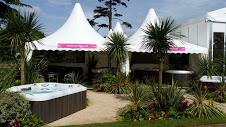 Achieving high scores for creativity, presentation and design, Jacuzzi Spa & Bath Ltd scooped a 3 Star Tradestand Award at this week's RHS show. It is a particularly special achievement as Jacuzzi is the very first hot tub brand to receive this accolade for its presence at the world's largest flower show, which is attended by over 100,000 people every year who consume 14,274 glasses of Pimm's and 14,868 glasses of Champagne.
Situated within David Domoney's Celebrity Theatre, the Jacuzzi stand features tropical plants and palm trees, to create a mini oasis at the renowned UK flower show, running from June 30 to July 5. The stand also features a brand new J585 model, which is part of the state-of-the-art J500 series that is maintaining the company's historic legacy of hot tub innovation.
 
Jacuzzi; which has just achieved multiple 2015 WhatSpa? Best Buy Awards for the J-245IP, J-335, and J-575 hot tub models; is a regular exhibitor at the RHS show to demonstrate the added impact that its iconic hydrotherapy products can bring to garden design. The 3 Star Tradestand Award is now the icing on the cake and another addition to the long list of accolades that the brand has collected.
According to Jacuzzi UK Marketing Manager Spa and Bath, Paul Farrell, the commitment from the Jacuzzi team and David Domoney's knowledge to conceive the tropical paradise location has been pivotal for the hot tub brand's award-winning achievement at this year's RHS show.
 "To be recognised within this category at such a prestigious outdoors event is a huge achievement for us," said Paul.
"It demonstrates the team's hard work, dedication and commitment, as well as David Domoney's expertise in creating a unique exhibition of a tropical paradise.
"We're proud to be taking this award home and look forward to next year's event."