RotoSpa gains bumper hire demand
RotoSpa has reported bumper growth in demand from retailers and hire companies seeking out additional supplies from the British manufacturer to meet the booming short-term use of hot tubs during the festive period.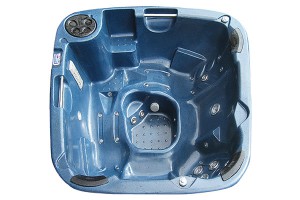 Currently RotoSpa; which received a 2014 WhatSpa? Best Buy Award for the hard-wearing dual lounger RotoSpa DuraSpa Elite S380, pictured, that can accommodate six people and comes in at 199 x 199 x 77cm; has around 40 hot tub hire company customers that are servicing the increasing demand for tubs for special occasions and weekend parties.
This year extra numbers of the rugged roto-moulded RotoSpa hot tubs are being ordered from the manufacturer's specialist West Midlands-based factory facility, to accommodate the increase in the number of hire company bookings for Christmas and the New Year celebrations.
The portable 13amp plug-and-play models are ideal for hot tub hire, as they are all under 80cm tall and are easy to lift and fit through doors. They are also simple to install, energy-efficient and have low running costs.
RotoSpa dealership Sutton Pools and Spas has already successfully adopted the tubs for hire strategy and generally is servicing high levels of weekend demand throughout the year, so has a specialist team to distribute and install the hot tubs for customers on Thursdays and then collect them on Monday.
"Many of our hire company customers are telling us that all of their tubs are already booked up for Christmas and New Year, so they're ordering more models from us to meet the extra demand," revealed RotoSpa Sales Director Jason Smith.
"There has certainly been a big increase in the demand from hire companies for our hot tubs in the past year or so but during the autumn it really shot up to meet the demand for the winter and festive period."
Jason has been celebrating his tenth anniversary with the WhatSpa? Approved company that has landed multiple consecutive WhatSpa? Best Buy Awards in that time for the round QuatroSpa model that can accommodate six people and is a stable mate of the DuraSpa; as well as the three-seater DuoSpa, four-seater round OrbisSpa and traditionally-shaped Chatsworth, which can accommodate six to seven people.
He believes retailers should now be considering providing hot tub hire services from their showrooms to capitalise on the growing demand for short-term use that may lead to lucrative sales.
"I think that if showroom retailers are not offering this type of hire service then they are missing out on a lot of potential sales leads in the future," said Jason; "Spa hire provides extra revenue while advertising your products and services.
"Someone who is just making money on hiring tubs out may not have the resources to sell hot tubs and provide the additional after-care for water treatments and servicing like an established hot tub retailer can.
"During the winter when showroom sales are slowing down a bit there is now an opportunity for extra money to be made, especially from hiring out tubs during the two-week period over Christmas and New Year.
"Then in January retailers can also be capitalising on the fact that people want to get fit and healthy at the start of the New Year by joining gyms and could also want to use a tub then on a temporary basis. Later in February there is likely to be extra demand for hot tub hire during the week around Valentine's Day.
"All of these events could generate many hire customers on an annual basis that may then eventually want to become an owner of a hot tub."
www.rotospa.co.uk