Sales specialist overtakes £4,000 charity mark
A sales manager of hot tub and pool product supplier Golden Coast has seen his attempts at diving into various charity fundraising exploits push his total over the £4,000 mark after undertaking a gruelling obstacle course.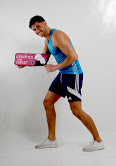 During the last three years father-of-two Adam Clark, pictured, has run two full marathons and three half-marathons, rowed a seven-mile raft race, and even entered the ring for a charity boxing match as part of his fundraising initiatives away from his sales manager responsibilities at the headquarters of Barnstaple-based Golden Coast.  
His latest charity event was a 20-mile obstacle course, in which he had to overcome 200 obstacles. It has helped to raise £165 for Children with Cancer UK in the process. Thanks to this total Adam has now surpassed the £4,000 mark with a running amount that currently stands at £4,132, which has boosted various charities through his many endeavours.
Adam is now hoping that further donations from the wet leisure industry can also help to boost this total and the funds for Children with Cancer UK by making online contributions at: www.justgiving.com/fundraising/dirty-weekend3wm to make a donation
"I'd like to thank everyone who has donated so far, in response to my appeal," said a grateful Adam.
"Running 20 miles and tackling 200 obstacles was a tough challenge, but it's nothing compared to the battle some children and their families are facing."
Meanwhile, to meet growing demand from the wet leisure market, Golden Coast has strengthened its technical support team with the addition of Swedish electronics specialist Erik Soderlund.
A trained electrical installer, Erik has a strong history of delivering sales support. He boasts a wealth of experience, gained through a long and varied career supporting the needs of businesses of all shapes and sizes.
The new appointee brings with him a real passion for wet leisure. A keen diver, he is a qualified instructor, divemaster and boat captain, who has led diving expeditions in the Cayman Islands, Bahamas and Thailand.
 "We are pleased to welcome Erik to our team of product specialists," said Golden Coast Managing Director Jamie Adams.
"Our growing customer base deserves the highest levels of technical sales support possible, and we endeavour to deliver.
"Erik brings with him an exceptional sales record and the rich technical knowledge that will surely be of huge benefit to our customers – helping their businesses to grow.
"And, as if that wasn't enough, like many of the Golden Coast team, he's a very keen cyclist. At the rate with which our roster of cyclists is growing, it's looking like we may have enough to put forward a team for the Tour de France 2017!"