Sallie illustrates how hot tubs change lives
BISHTA PR and Marketing Manager Sallie Leslie-Golding has become another example of how hot tubs can change lives after years of helping the industry association to promote the benefits of quality hydrotherapy to prospective consumers.
After suffering from severe back and joint pain for over 20 years, Sallie was referred to a Rheumatologist by her doctor, who diagnosed her with Hypermobility Spectrum Disorder, Degenerative Disc Disease and Fibromyalgia.
Sallie was also within weeks diagnosed by a cardiologist with a mitral valve prolapse, dysautonomia and postural orthostatic tachycardia syndrome. Being suddenly diagnosed with a whole range of health issues came as quite a shock even though Sallie had suffered many of the symptoms for years.
There are medications, which can help relieve some of the symptoms, but Sallie was also interested to seek solutions that were more natural. Taking supplements helped and continuing to practice yoga regularly has also been a help, but Sallie felt that she needed something more to assist her to relax at home, to relieve the aches and pains and get a better night's sleep.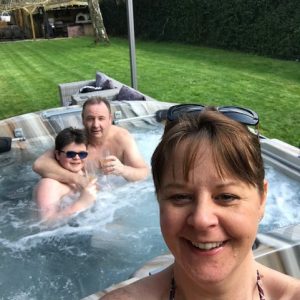 So, tapping into her hot tub hydrotherapy benefits knowledge, Sallie discussed the idea of purchasing a hot tub with her husband and teenage son and they all agreed that a hot tub at home, pictured, could bring benefits to all of their lives.
"In my time working with the trade association, I have learnt so much about the health benefits of hydrotherapy," said Sallie; "I am therefore so pleased that I have now been able to purchase my own hot tub.
"Not only has it helped with my muscle and joint pain, but it also helps me to relax and unwind after a busy day.
"However, owning a hot tub has also added to our family life, we have some great conversations in our hot tub, there are no distractions from electrical devices so it's just great family time.
"It was very exciting to see the hot tub delivered by crane, it certainly got the neighbours talking and they are all eager to be invited over to take a dip in the tub!"
Meanwhile, leading Coast Spas dealership Award Leisure has achieved another promotional boost for the industry and increased hot tub benefits awareness to consumers by being featured in a newspaper story in the Coventry Telegraph; after helping to transform the bath time experience of a young boy called Jack, who suffers from a debilitating skin condition.
A MicroSilk hot tub was recommended by Jack's doctor to help soothe the skin due to the positive effect of the MicroSilk bubbles and bathing in warm water. With the help of the charity 'Georgie's Gift', Award Leisure were able to install a Coast Spas Aruba model with MicroSilk technology for Jack to immediately gain the benefits and have a major impact on bath time.
His parents have since reported to Award Leisure how much Jack's skin has benefited from using the Coast Spas hot tub. With itcthyosis the flaking of the skin can be very painful, and Jack's mum, Julie, told Award Leisure how many agonising hours she had spent with Jack in the bath trying to exfoliate and treat his skin. Since having the Coast Spas hot tub installed Jack can now relax and play in the water, while his skin is soothed and exfoliated.
"We are delighted to hear how much the MicroSilk hot tub is helping Jack," said Award Leisure chief Mark Anthony.
"Jack's mum told us that bath times have gone from cold and boring to 20 minutes of fun."
In a further boost for good causes Award Leisure's Charlotte Anthony also completed the Leicester marathon in October to raise money for Parkinson's Disease ahead of the company helping the 'Gift to Lift' charity event during the 'Great Gatsby Ball' raise an extra £500 with a donatated prize for the winner to be able to enjoy the benefits of a hot tub for a month from Award Leisure.
The WhatSpa? Approved and WhatSwimSpa? Approved Coast Spas and Regency Collection specialist dealership group now has five showroom locations to cater for greater demand for quality hot tubs, swim spas, saunas and outdoor products and last year once again extended its BISHTA Awards honours list with additional accolades including recognition in the 'Hot Tubs Change Lives' category.
Further evidence of the impact that hot tubs can make to families will be highlighted during the presentation of the prestigious BISHTA accolades at the British Pool and Hot Tub Awards, which will honour the best examples in the 'Hot Tubs Change Lives' category of the awards during the 2019 presentation ceremony hosted in Coventry this month during SPATEX at the Ricoh Arena.
Register now for SPATEX at www.spatex.co.uk. For stand bookings for SPATEX, running at the Ricoh Arena from January 29 to 31, contact the SPATEX team via email: michele@spatex.co.uk or helen@spatex.co.uk or directly by telephone on: +44 (0) 1264 358558.