Saratoga Spas achieves sale of the century
Saratoga Spas has achieved the sale of the century level in the UK this year thanks to a fledgling distribution deal with Deep End Pools that is boosting British awareness for the New York-based hot tub manufacturer.
Multi award-winning Deep End Pools has combined the manufacturer's 'Sourced in America and Made in New York' philosophy with a 'Join the Gold Rush' marketing initiative for the wet leisure trade, and 'Made in the Adirondack Mountains' advertising campaign for consumers; to gain an influx of new British dealers and customers for the pedigree brand produced for nearly half a century by the eastern USA's largest manufacturer in the wet leisure sector, which has a host of patents to its name.
The brand is part of the Imperial Pools company, which was founded in 1959 and was an exhibitor at the 34th edition of the Canadian Pool & Spa Conference & Expo earlier this month, hosted at the Toronto Congress Centre.
After achieving a 2014 WhatSpa? Best Buy Award in the under £3,999 price category for the three-seater Exmoor model that comes in at 120 x 180 x 73cm, consistent new customer numbers have been achieved throughout 2014 and it has resulted in Saratoga Spas sales in the UK surpassing the 100 mark.
Following the launch of an additional showroom in Ivybridge, Plymouth, Deep End Pools has been spearheading awareness for Saratoga Spas with the help of eCommerce Sales Manager Daniel Johnson. Other showrooms include Lapford in mid-Devon, Toad Hall Garden Centre in Henley-On-Thames and Holtspur in Beaconsfield, which have been achieving success with Saratoga Spas.
A dedicated warehousing facility at the Yeo Vale Industrial Estate in Lapford has been established for the manufacturer's storage of Saratoga Spas for speedy distribution to its network of dealers.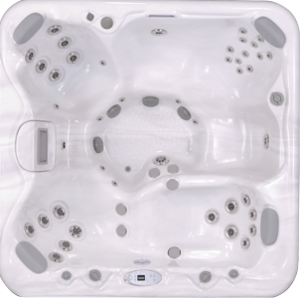 Daniel reported that the feature-rich Canfield, pictured, from the high-end Luxury Spa Line; which comes in at 84" x 84" x 38" and can seat six people; is proving popular with British consumers, and is currently the brand's best-selling model in the UK.
The Canfield has the Saratoga Spas exclusive Passive Impact CFE Therapy System and Direct Impact Therapy System. It has also been designed with a Relax Stream Waterfall, as well as the environmentally-friendly Continuous Whisper Zone Ozone Generator; among a multitude of inclusive state-of-the-art features.
"We have been doing some very good numbers consistently every month and as a result we have sold over 100 hot tubs this year," said Daniel.
"Our interest free finance options are proving popular with consumers and people are spending above their projected budgets.
"This brand is really flourishing now and hopefully we will be building on our success with new UK dealers.
"We've been receiving enquiries from people out of the industry wanting to become Saratoga Spas dealers. The whole of the UK and Ireland is within our sights."
www.deependpools.co.uk
www.saratogahottubs.co.uk