Second helpings for hot tub product specialist
Hot tub and swim spa specialist company Aqua Warehouse Group is gearing up for promotion of its Aqua Spa Supplies services during the company's second SPATEX outing at the Ricoh Arena.
Leading wet leisure distributor and Aqua Warehouse Group chief Richard Hart has booked into SPATEX again to promote his flourishing Aqua Spas Supplies trade service, which is proclaimed to be the fastest growing accessory distributor in Europe, during the service's second outing in the Ricoh Arena's Jaguar Exhibition Hall from January 31 to February 2.
Richard, who supplies the L.A Spas and Vita Spa ranges of USA hot tubs and swim spas to the two British dealer networks, has confirmed he will be occupying a similar sized area on Stand C66 as the one he adopted when his Aqua Spa Supplies company made its exhibitor debut at the 19th edition of SPATEX last year.
Aqua Spa Supplies will also be providing details and comprehensive product information on various pool vacuums and spa filter cleaners during a special Aqua Spa Supplies Seminar in Arena 2 in the Jaguar Exhibition Hall on Sunday, from 10:15am to 10:45am.
"We will have the same kind of stand size as last time round to help promote all of our flourishing hot tub and pool product accessories," said Richard.
Since its first SPATEX appearance as an exhibiting company Aqua Spa Supplies has increased its potential to cater for all demands of swim spa covers requirements from trade customers.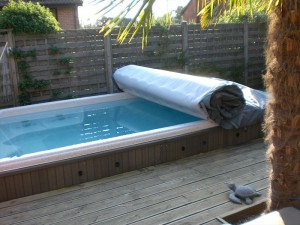 This has been boosted with the launch of the innovative End2End swim spa cover product line, pictured, in its growing stable of swim spa covers, which includes the fully-automated Covana Legend CS 1000 cover system that elevates and lowers with the simple turn of a safety key switch to help ensure access to the swim spa is easily, while also being extremely secure at all times
Richard believes the End2End covers will be a hit in the British market and has confirmed his Aqua Spas Supplies stand will be promoting the exclusive distributor status for the range at the 20th anniversary edition of SPATEX. The rugged USA-manufactured covers have steel frames fitted into their thick and durable covers; which are flexible to enable one person to easily roll it off partially or fully and are custom-built for swim spas up to 20ft.
The seasoned hot tub and swim spa distributor is no stranger to SPATEX, having promoted his Aqua Warehouse distributor status of hot tubs and swims spas for USA brand Vita Spa on many occasions when the event was hosted in Brighton that has helped to increase his status in the market. He will now be aiming to generate high levels of footfall that his stands have enjoyed at previous editions of the annual exhibition during his second outing with his Aqua Spa Supplies division.
Along with the newly-launched 'Grip O Cooler', to help securely keep a Champagne bottle on ice on hot tubs, Richard and his Aqua Spa Supplies team will also be promoting a wide range of accessories such as cover lifters, vacuums, cleaning products including the Mytee Mitt and Life Spa Brush, fragrances, Spazazz Crystals, fun thermometers, the Aqua Spa Supplies Duck and Vita Duck and other ducks including Life Guard Duck, towels, steps, Smart Bar, Spa Caddy, the Spa Side Handrail and the Safe T Rail.
"This will be our second year of having a dedicated stand at SPATEX for the Aqua Spa Supplies side of our Aqua Warehouse Group business," said Richard, who has reported that his first year of distribution of L.A Spas products to UK dealers has been a successful one with strong British sales, following the USA brand being purchased by Vita Spa owners MAAX Spas.
"We will be returning to the Ricoh Arena with a wide range of wet leisure products as part of our growing stock, including our new End2End swim spa covers, during the 20th anniversary exhibition."
Aqua Spa Supplies Warehouse Manager John Mabey, who is among the Talking Heads in the current edition of Hot Tub Retailer magazine, will be following up his attendance at two 2015 UK Pool & Spa Expo appearances and last year's SPATEX outing to help highlight the success of the Aqua Warehouse Group's flourishing trade supply company.
John believes the successive appearances at the two West Midlands-based exhibitions has helped Aqua Spa Supplies to raise its profile in the wet leisure market. He also stresses that hot tub and swim spa dealers need to embrace the potential of wet leisure product accessories to help boost customer numbers and profitability.
"By attending exhibitions to promote our Aqua Spa Supplies services and products we've illustrated that being proactive with promotional activities can reap rich rewards," said John; "You always have to be progressing in this business and creating extra choice for customers.
"In the past 12 months we've been ramping up promotion of our wide range of Aqua Spa Supplies products and services by attending two UK Pool & Spa Expo exhibitions, SPATEX, and Piscina & Wellness Barcelona. This has proved to be a major success and has allowed us to effectively grow our presence in the wet leisure accessories trade supply market.
"Accessories are becoming a big part of the wet leisure market and those retailers who are not embracing their potential are missing out on extra revenue streams that other dealerships are eager to pick up on.
"They may not have the same high price tag as a hot tub or swim spa, but accumulated over time with the correct promotional strategy these extra items can all add up to provide considerable financial gains in the quieter months.
"A product that we've introduced has been the 'Grip-O-Cooler' to help hot tub owners maintain chilled Champagne before pouring it in one of the handily-stored plastic champagne flutes.
"If retailers want to be successful with this product, though, they have to put it out on display to attract attention to it as visitors walk around the showroom. Then when a customer makes a purchase of a hot tub or swim spa they are more likely to ask for this type of product to be thrown into the whole bundle."
For details and further information about the wide range of wet leisure products available from Aqua Spa Supplies visit Stand C66 where you will be warmly welcomed by Richard and his team.
www.end2endswimspacovers.co.uk