Serving up hot tub holiday solutions
Experienced hot tub and swim spa distributor Spa Solutions is serving up services for hot tub holiday businesses after launching a new retail division showroom in Kettering to promote multiple brands.
Aqua Living has been established by Spa Solutions to provide a new unique retail showcase for the North River Spas, which includes the popular 'plug and play' Elk River model, Viking Spas, which is famed for its Soft Touch slip resistant surfaces and has the Royale with Zero G lounger design among award-winning options; and the southern hemisphere market-leading Vortex Spas brand of hot tubs and swim spas, which includes the unique IKON and Cobalt Hydroplus hot tubs and Aquagym Max and Aqualap Pro swim spas.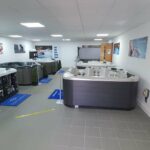 Along with its hot tubs and swim spas, including Fisher Spas with its Hydro SS model and specialist options for the hot tub holiday market, along with dedicated Spa Solutions designs, the WhatSpa? and WhatSwimSpa? Approved retail outlet, pictured, at Unit 8, Northcliffe Point in Cunnliffe Drive will be providing customers with professional installation guidance, maintenance advice and support services, as well as essential accessories, such as water maintenance products and filters.
"During the COVID-19 pandemic we've taken advantage of vacant premises near to our warehousing units by establishing our first dedicated Aqua Living showroom," reported Spa Solutions chief Anthony Schneikert.
"This is now the UK's only retail showroom for the Viking Spas, Vortex Spas, and North River Spas brands. It provides us with the perfect convenient location to promote product training and water maintenance knowledge to our dealers and customers."
To meet the booming 'staycation' demand for hot tub holidays Spa Solutions is promoting new dedicated services for this sector to provide fast and efficient delivery of HSG282 compliant products and environmentally-friendly heating capability, and professional support, with over two decades of experience in the hot tub market.
"Our ambition is to give holiday park and cottage operators complete confidence and peace of mind assurance when they install our hot tubs and ancillary equipment," divulged Anthony.
"Our range of 'speedy solutions' services include HSG282-compliant models that can be paired with bespoke heat pumps and heat exchangers for ultra-fast heat up times and environmentally-friendly low-energy consumption."
Spa Solutions is scheduled to be among the bumper list of exhibitors at SPATEX 2022, from February 1 to 3 at the Coventry Building Society Arena, to promote a wide range of products to current and prospective dealers, along with additional accessories that include new Vortex Pergola designs.
"We're really looking forward to attending SPATEX again," reported Anthony.
"It provides us with another opportunity to showcase our quality products that have been gaining success in the UK with their short lead times and delivery promises during the last two years of the COVID-19 pandemic, as well as the capability to promote some of our new options for dealers."