Shady deals to beat summer temperatures
While temperatures have reached new British record levels scorching deals to provide hot tub owners with extra benefits during the summer are being promoted by Season Spas UK along with extra savings on outdoor products.
The retailing operation of Mansfield-based WhatSpa? Approved hot tub and swim spa distributor Sunbeach Spas, which also supplies the recently-launched R18 Energy Efficiency capability of the Oasis Spas UK designs, is currently promoting the flexibility of the Pandora Leaf Pergola.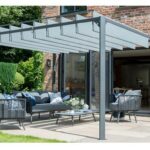 It is being proclaimed as a pergola with a sturdy rust-free aluminium frame to provide the 'best of both worlds' of sunshine or shade with an adjustable slatted roof with the convenience of being able to shut out the sun with the turn of a handle.
Other outdoor products with deals for owners to take advantage of during the hot weather as part of summer offers include Rattan Garden Furniture, such as a Luxury Rattan Garden Sofa Set that has been slashed by half the original price.
To ensure alfresco dining is sizzling this summer, Season Spas have additionally ramped up promotion of the Outdoor Kitchen products from Norfolk Grills, along with the Atlas 300 Gas BBQ that features a 3.5kw burner and side burner.
The retailing company is also promoting Splash and Play paddling pools and hundreds of pounds of savings with outdoor sauna deals, as well as highlighting the HSG282 compliant designs to prospective hot tub holiday business customers from Sunbeach Spas, which has over 50 dealerships across its UK network and has gained prestigious 2022 WhatSpa? Best Buy Award-winning status for its energy-efficient four-seater SB344 model that has the flexibility of being able to be configured as either a 13-amp 'plug and play' option or hard-wired for a 20-amp supply.
Among the Oasis Spas UK designs, which incorporate SmartSpa+ functionality, is the 2022 WhatSpa? Best Buy Award-winning RX562 that is the first model from this range to achieve this accolade after being launched last year to the UK market by Sunbeach Spas.