Shared hot tub philosophy
Villeroy & Boch has followed up its innovative technology recognition at this year's iF Design Awards 2015 for the Just Silence model by promoting the 'shared hot tub soak' philosophy to prospective owners.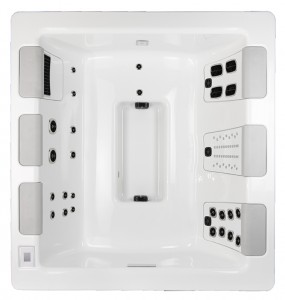 The iconic manufacturer believes the newly-launched five-seater Just Silence model, coming in at 224 x 213 x 86cm, is the perfect location for relaxation with family and friends. It has just received a WhatSpa? Best Buy Award in the £12,000 plus price bracket of the ninth edition of the consumer magazine, after landing the 'Excellence in Product Design' accolade during the iF Design Awards ceremony in Munich earlier this year ahead of being introduced into UK hot tub showrooms this spring.
According to Villeroy & Boch Global PR Manager Bath and Wellness Katrin May, most owners do not want to be alone in their hot tub and would much rather prefer to relax with company, while enjoying pleasant conversation.
"The new seating concept for Just Silence outdoor hot tubs from Villeroy & Boch allows for convivial relaxation as never before," said Katrin.
"Just Silence allows up to five people to sit staggered across from one another and everybody can stretch their legs. The outdoor hot tub has external dimensions of 213 x 224 cm and has a unique recumbent concept, with up to five spaces for people to lie down."
While experts on the iF Design jury panel praised the innovative seating capability arrangements in the 'Just Silence' design; which was showcased at the UK Pool & Spa Expo in January, they also highlighted the minimalist cubist design, both inside and out, that emphasises the modern look and makes it perfect for setting an architectural accent.
The Just Silence's flexibility to sit comfortably in both a garden and indoors has also been highlighted after achieving its first WhatSpa? Best Buy Award plaudits with a verdict that stated: 'It takes contemporary designer styling to the next level in the hot tub market, resulting in a model that looks just as good in a landscaped garden as it does inside a designer home…An ingenious sleek design loaded with new technology and the backing of a huge brand.'
Katrina stressed that the Just Silence, which has a 1,488 litre water capacity and incorporates the user-friendly JetPak II technology, has a futuristic appearance that is perfect for the outdoors and lounge-style terraces and can sit comfortably against any outdoor colours.
"Villeroy & Boch does not merely use innovative technology in their outdoor hot tubs, but also trendy design that comes across as extremely simplified," said Katrin.
"Just Silence outdoor hot tub in clear white has a purist design with smooth surfaces, clear lines and cubist forms making it seem almost futuristic. Just Silence can be combined with all outdoor colours and is truly well suited to lounge-style terraces or gardens."
Katrin also revealed that Villeroy & Boch would be continuing to promote the energy-efficiency of its blossoming stable of innovative hot tubs.
"The Villeroy & Boch outdoor hot tubs meet the toughest requirements and they are among the most efficient in the world," declared Katrin; "The efficiency comes from full foam insulation and lines which have been shortened by 90 percent.
"As the Villeroy & Boch design places a large share of the lines in the warm pool water, they are protected against excessive cooling. The energy-saving cover helps also protect against heat loss – and not just on cold winter days."