Six appeal for new Aquadynamic design
Catalina Spas has launched a new Catalina CX-6 Aquadynamic hot tub with energy-efficient six-seater appeal to build on the success of its predecessor in the domestic and hot tub holiday sector.
The CX-6 is an updated version of the extremely popular original CS-6 and is the first of several new releases that have been planned for this year. As part of the launch promotion, Catalina Spas is proclaiming that the improvements include a more open and ergonomic seating and jet layout, stylish and attractive luminated features, as well as enhanced thermal insulation.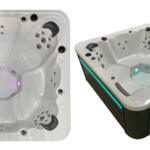 To keep running costs low the CX-6, pictured, which incorporates a lounger seat within the seating design, is built with 'tried and tested' heat retention insulation. It has a High Density 150mm to 120mm tapered, Oxford™ material cover, along with 20mm Spray Applied High Density Foam Cabinet Insulation, and 20mm Applied High Density Foam Base Insulation,
LED features include perimeter lights, underwater light, external cabinet lighting and pop up water features. A Bluetooth music system, meanwhile, with subwoofer and topside controls is complimented with top quality pop up speakers.
The CX-6 HP is designed for the hot tub holiday market, and incorporates an inline chemical feeder, along with simple push button 'non-tamper' topside with separate auxiliary controls for temperature and filter cycles.
"We designed this hot tub to keep the popular functions and features of the CS-6 but to incorporate upgrades and modifications to suit the ever-growing holiday park and letting market," revealed Carl Dredge from Catalina Spas.
This new model is now part of a growing stable of HSG282 compliant Holiday Park specification models that are also available from Catalina Spas, including the best-selling CS6 model.
Along with exclusive dealer opportunities, production of own brand designs are also available.
"All of the new models are unique and specifically designed by us in our own production facility," explained Carl.