Smart savings from RotoSpa technology
British manufacturer RotoSpa is helping hot tub holiday companies to get smart this year with environmentally-friendly products that provide enhanced operational efficiency with real-time remote control capability that creates remarkable expenditure savings.
West Midlands-based RotoSpa ramped up production to eight times the expected level and employed extra staff to meet hot tub demand during 2020 and is now promoting its new British Holiday and Holiday Park Association (BH&HPA) member status to build on a 50 per cent sales increase to the tourism sector with 2021 WhatSpa? Holiday Park Best Buy Award-winning HSG282 compliant hot tubs and environmentally-friendly products that provide advanced remote voice command capability for hot tubs with SmartLink technology.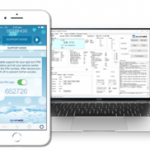 A SmartLink Wi-Fi module, controlled by a SpaLink app, from Apple Store or Google Play, allows users to gain enhanced remote control of hot tubs from any location. The SpaLink app can also be linked to Amazon Alexa and Google Assistant to ensure voice control capability with MySpaPool. This provides holiday parks with the capability to gain extra energy-efficiency savings by eliminating unnecessary transport and heating costs.
RotoSpa has previously won a BISHTA Gold Award for 'Hot Tubs in a Holiday Setting' and Sales Manager Jason Smith has reported that the manufacturer's eco-friendly products are making a big impact in the hot tub holiday market and are attracting new customers who are running environmentally-friendly glamping sites. Its EcoSpa heat technology, which is proclaimed to be the quietest inverter heater in the World, is being targeted at this sector as it provides 90 per cent free energy from ambient air and can lower operating costs by a staggering 75 per cent.
"Our British manufacturing status and environmentally-friendly products are becoming a key purchasing decision factor with glamping sites that are running on low electricity supplies," reported Jason.
"We've increased our presence in the glamping sector in 2020 with businesses wanting to work with an established company in this market that has the lowest carbon footprint and has the capability to manufacture and supply environmentally-friendly products with nationwide service support throughout Britain."
While it was busy ramping up production to meet the higher demand last year RotoSpa, which is a supplier of hot tubs to the Starlight Children's Foundation, was flooded with nominations of 'heroes' as part of an initiative to find a deserving recipient during the Covid-19 pandemic to be presented with a DuraSpa S380 hot tub worth £6,000.
The company's 'National Lockdown Hero' winner of the rugged hot tub, which has been produced with RotoSpa's MoodGlo waterfall feature with backlit LED light, was an 11-year-old girl called Kate. Her admiring auntie highlighted that Kate had lost both her parents and had provided selfless sibling support for her younger sister, Ria, by helping her to battle with health issues last year during a 12-week self-isolation period.
"Having suffered the loss of both parents in recent years, I'm amazed by her relentless energy and happiness for life," divulged Kate's auntie in her nomination; "She's a shining light for our family and most of all, a rock for Ria."
Sophie Wiggett of RotoSpa, which has previously won a prestigious BISHTA Gold Award for 'Hot Tubs in a Holiday Setting' was one of the sponsors of the 2021 British Pool & Hot Tub Awards ceremony, hosted during SPATEX Virtual, conceived the hero search and hot tub prize initiative and has been inspirational in promoting the nomination campaign, which has helped to highlight the endeavours of NHS staff, and care home workers, as well as brave actions from other young children, as well as Kate.
"In the past we've done fun runs to raise money for the Starlight Children's Foundation but that was not possible in 2020," divulged Jason Smith; "So this has been another way for us to give something back and highlight deserving Covid-19 pandemic heroes."
www.spatexvirtual.vfairs.com/en/registration