SMARTOP® Spa Cover now offers 'Deco Series' fabric option
Leisure Concepts, makers of state-of- the-art accessories for spas, has announced that it will offer its popular SMARTOP® cover with an option to upgrade the cover with an elegant, high-performance decorative overlay that gives the cover a unique, chic flair.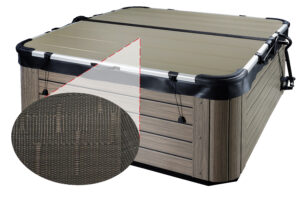 Designed to match the latest in garden patio décor, the Deco Series mesh-vinyl fabrics are durable, UV resistant and available in six different colour options that complement and integrate with patio furniture and decking.
The SMARTOP cover range has been created for hot tub retailers and service professionals that want to stand out from their competitors by providing a unique option to consumers interested in a superior, durable and attractive hot tub cover.