Softub UK among UKPSE new recruits
Softub UK is among the 'new recruits' making its exhibitor debut at the UK Pool & Spa Expo to attract new dealers for the versatile hot tubs at the Birmingham NEC this week.
During the  exhibition, running from January 22 to 24, UK distributor for the brand Joe Hutchinson will be promoting increased sales of the popular user-friendly range of highly mobile hot tubs, including the six-person Softub Resort 300+, which comes in at 200 x 170 x 69cm and has a filled weight of 1254kg.
Other energy-efficient models, which incorporate the Polybond high density insulating foam, include the Softub Sportster 140, coming in at 150 x 130 x 61cm and designed for single or double occupancy; and the larger four-person Softub Legend 220, that comes in at 180 x 150 x 81cm.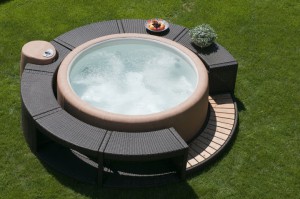 All three models are produced with the durable LeatherTex outer vinyl to withstand severe weather conditions and the Hydromate, which incorporates pump, motor and heater into a single unit. They are helping to achieve increased sales for current dealers and Joe is hoping to land additional retailers during the UK Pool & Spa Expo, running from January 22 to 24.
"Our Softub sales are up and we are now looking for new dealers and sales representatives," revealed Joe.
"With new dealerships across the country and a growing show and events calendar, more and more customers are falling in love with our product.
"They are an increasingly popular choice amongst customers, thanks to their stylish design, unrivalled energy-efficiency and easy installation and maintenance."
Softub UK will be appearing at the UK Pool & Spa Expo on Stand 140.
UK Pool and Spa Expo 2015 opening hours for the first two days of the show, on January 22 and 23, will be between 10am to 5:30pm. On Saturday, January 24, the third and final day of the UK Pool and Spa Expo is the Consumer Day that will be staged between 10am and 3pm for exhibitors in Hall 10 to meet with members of the public as well as trade representatives.
www.ukpoolspa-expo.co.uk