SpaBerry manufacturing and distribution deal
Superior Wellness has joined forces with SpaBerry as part of an official partnership to deliver new manufacturing and distribution services for the Canada-based hot tub brand.
SpaBerry partners Jeff and Bruce Knight have announced the production and supply deal with the Superior Wellness team after establishing a North American Distribution Centre located in Calgary, Alberta. The partnership with the brand and its parent company VisonWerx provides the capability to annually mass produce and ship tens of thousands of SpaBerry models to international destinations.
As part of this deal, which has been welcomed by SpaBerry and VisonWerx President Jeff Knight, it has been revealed that Superior Wellness will be manufacturing and distributing SpaBerry hot tubs across the UK and Europe. The brand is famous for its distinctive two-seater designs, which have had the addition of Jeff's latest creative contribution in his role as Chief Design Architect in the form of the SpaBerry SB-6 design, with IncaBerry, StormBerry, BelugaBerry, MochaBerry, and OceanBerry options that feature a range of new functionality, such as wrist jetting.
"In the 30 plus years I have spent in the industry I have never met or worked with a better group than Superior Wellness," declared Jeff.
"Their company culture and dedication to the end user customer, their ability to build in mass quantity while keeping quality at the forefront, has made them a perfect fit for SpaBerry.
SpaBerry's new Global Sales & Marketing Centre, which is being proclaimed as a state-of-the-art Global Multilingual Internet Sales Centre, is expected to open in February after being specifically designed to operate 24 hours a day and 365 days a year.
According to Jeff Knight, SpaBerry's unique approach to online marketing through video, chat, text, and email communications' algorithms and the capability of the Superior Wellness team at mass manufacturing capabilities, along with their organisational strengths of distribution and service, makes the partnership a perfect fit.
"We believe in the culture and the drive that has been established at Superior Wellness and are extremely proud that our global expansion efforts have the support of their team."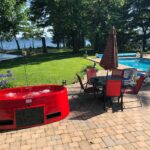 Superior Wellness has achieved a rapid rise to UK distribution dominance status during the past decade in the hot tub and swim spa market and now the company will be conducting the latest SpaBerry partnership logistics from its new warehouse and office headquarters in Chesterfield.
"We are delighted to announce this global partnership with SpaBerry," said Superior Wellness Managing Director Rob Carlin; "The hot tubs are already in production and we are excited about the first customers receiving them."
Superior Wellness Sales Director Gareth Ward added: "SpaBerry is a great product and we know that customers in the UK and Europe will love it.
"The partnership is a perfect fit as we are both focused on ensuring quality is at the forefront particularly when we are producing large quantities."