SPATEX organisers and exhibitors are looking to cement a new foundation in the West Midlands with a dedicated 'Spa Day' focus for the hot tub and swim spa market when the 19th edition of the exhibition returns to the Ricoh Arena on Sunday.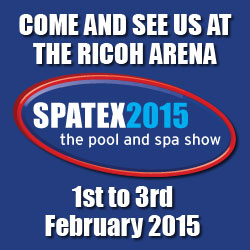 During its second appearance at the Coventry-based Jaguar Exhibition Hall venue exhibition planners are aiming to gain a repeat of the rave feedback on the exhibition stands and from trade visitors that last year ensured the venue was booked for an immediate reprisal for this year's wet leisure showcase from February 1 to 3.
The bumper bookings from loyal supporters and SPATEX debutants have ensured that once again the exhibition will provide a wide range of products, services and dealer opportunities from leading hot tub brands, pool specialists and wet leisure companies, and over 100 exhibitors include high-profile water treatment and accessories providers.
A new lease of life for the exhibition, thanks to the hard work from the organisers behind the scenes, has ensured that the positive momentum for SPATEX has been gathering pace during the past year ahead of the 2015 Ricoh Arena reprisal. Publicity for the event has also been helping to boost the profile of the wet leisure industry, which it has been promoting for almost two decades.
As part of the expansion of the event for the second instalment in Coventry, SPATEX will now be occupying extra exhibitor space in Halls 1 and 2 of the Jaguar Exhibition Hall to accommodate over 100 exhibitors and their stands. New this time round will also be a second Seminar Arena and many of the stands will be featuring spas with water.
Established exhibitors who made the transition for the 2014 exhibition have been eagerly anticipating a return to the host venue, which provides them with easy stand delivery and set up as part of the host site's exhibitor-friendly assembly provision format.
"From companies returning to the fold, to those that will be first-time exhibitors, they will contribute to what promises to be a vibrant and contemporary event, showcasing innovation, new faces and new products around an established core," said SPATEX organiser Michele Bridle.
Spa focus
A 'next generation' strategy for SPATEX to enhance its interest from the hot tub and swim spa retailing market is set to include a dedicated Spa Day on Tuesday, February 3, which will include a 'Spa School- Open Forum' element at the end of the day-long focus on hot tubs for both domestic and commercial use.
The Spa Day sessions will commence at 10am with a 30-minute talk by Howard Gosling FISPE on Spas for Business. During the session Howard will discuss the implications for an owner if a domestic spa is used in a business situation, as well as covering the differences between domestic and commercial location.
Expert guidance, including spa water care, is also being provided with additional specialists subjects such as: 'Water Treatment of Display Spas'; 'Water Treatment of Domestic Spas'; 'Servicing Domestic Spas'; 'Commercial Spa Legislation'.
To provide additional training throughout the three-day exhibition, Institute of Swimming Pool Engineers (ISPE) members will be joined by an impressive line-up of representatives from the Pool Water Treatment Advisory Group (PWTAG); Amateur Swimming Association (ASA); and Swimming Teachers' Association (STA); to provide a full range of training and professional guidance.
"We have responded to visitor feedback, which called for a greater focus on spas in addition to that already awarded to pools," explained Ross Alcock of ISPE.
"We've put together an expert-led package with something for everybody who is involved with either commercial or domestic spas, whether it is managing their use, installing, servicing or selling them."
Michele Bridle believes the wide range of training from the wet leisure industry's leading associations provides an unbeatable opportunity for visitors to enhance their knowledge of water treatment and product safety.
"The knowledge-base at SPATEX 2015 is second to none," declared Michele; "SPATEX prides itself on being at the vanguard of training and education and education.
"Thanks to the overwhelming support of many of the industry's esteemed associations, no other wet leisure exhibition is able to offer so much expert-let training all under one roof.
"Registration is free, as are all of our seminars and workshops, and we will happily issue certificates of attendance."
Exclusive loyalty
While some companies have chosen to split their time and resources between two UK exhibitions, a number of companies, including Certikin International, Golden Coast, and Spa Crest Europe, have stayed loyal to SPATEX.
Certikin Marketing Manager Cath Saunders has been a committed SPATEX advocate for many years and is eagerly anticipating another successful exhibition at the Ricoh Arena. The exclusive distributor for Caldera Spas from Watkins Manufacturing will be showcasing its official UK launch of three robust 'plug and play' Fantasy Roto Spa range of hot tubs for its dealer network to target the entry-level market.
The three Fantasy Roto Spa models have been produced with technologically advanced polymers in a RokSolid shell and cabinet by Watkins Manufacturing. The USA manufacturer is providing them for Certikin to introduce to Caldera Spas retailers who require a low-cost and user-friendly hot tub option in their showrooms. Retailers have the choice of the three-seater 'Embrace', four-seater 'Drift' and five-seater 'Entice'.
"We're looking forward to returning to the Ricoh Arena," said Cath; "It should be another successful event for Certikin International and our products and services.
"As well as our wide range of wet leisure products, supplies and accessories we will also be highlighting our hot tub range to our current and prospective Caldera Spas retailers.
"It will also give us the opportunity to fully promote the new Fantasy models. This is an ideal range for our retailers with customers that are looking to take their first step into spa ownership with a user-friendly entry-level model."
Golden Coast is another wet leisure trade supply specialist company that is firmly committed to exclusive loyalty to SPATEX. The family-run company will be heavily promoting its pool and hot tub accessories services to the trade, including the Essentials product range.
Managing Director Jamie Adams is looking forward to building on the company's successive appearances at SPATEX to highlight the company's long-running relationship with sauna company Tylo. During SPATEX Golden Coast will be launching a new Tylo steam room named the Panacea, which is an exclusive for the Devon-based company, as well as organising a seminar on 'Marketing your Wet Leisure Business for Growth and Profit'.
"Now is the time to focus on all of our positive elements of the business and we are looking forward to another appearance at SPATEX in Coventry," said Jamie.
"We will go where ever the industry wants us to put SPATEX on. At this present time we believe the Ricoh Arena provides a perfect setting for SPATEX to expand as an exhibition with professional organisation and facilities and we are fully supporting the exhibition with our loyalty to the event." 
"As always we will be concentrating on promoting new products for the industry during our return to the Ricoh Arena in Coventry.
"We have a wide range of hot tub accessories and our Essentials products that we will be highlighting, along with dedicated stands for our major partnerships with leading wet leisure and sauna companies including Triogen, Etatron and Tylo."
Spa Crest Europe Managing Director Tony Welsby is another exclusively loyal supporter of SPATEX and the committed advocate of the exhibition will be showcasing his enhanced Spa Crest hot tub line-up and new distribution deal with Tuff Spas to current and prospect dealers; as well as highlighting the opportunities for the Brand2Go own branding scheme, which utilises tried-and-tested USA manufactured hot tubs, for retailers.
"We at Spa Crest Europe are looking forward to returning to SPATEX 2015, which should be even bigger and better for anyone who wants to exhibit at THE wet leisure show in the UK."
Industry heavyweights
A number of industry heavyweights will also be among the high-profile exhibitor line-up, as part of a two-exhibition strategy, including Aqua Spa Supplies, Elite Spas, Marquis Spas, and the Pollet Pool Group (PPG) representing the BAYROL brand.
Wet leisure veteran Richard Hart has earmarked this year's SPATEX to promote his fledgling Aqua Spas Supplies trade service. He is no stranger to the exhibition, having promoted his Aqua Warehouse distributor status for Vita Spa when the event was previously hosted in Brighton, but it will be the first appearance at the Ricoh Arena for Aqua Spas Supplies as an exhibitor.
This year Richard has been ramping up activities for his newly-launched Aqua Spas Supplies division, from his Essex-based headquarters, and will be using SPATEX to enhance its profile in the industry.
He has reported that he is creating a special stand display to promote a wide range of hot tub-related products at SPATEX including hot tub spare parts, covers, cover lifts, along with a wide range of accessories for customers including a Safe T Rail, spa caddy, towel bar, Aquaroller and steps.
"We'll be putting a special stand display together to promote our new Aqua Spa Supplies service to the wet leisure trade during SPATEX," explained Richard, who is currently supplying an extensive range of hot tub and swim spa models options to dealers in the UK.
"This is the first year that we have had a dedicated stand at SPATEX for this particular aspect of our business and we have desiged a special stand display to officially promote our new Aqua Spa Supplies service and its product range to the wet leisure trade during this exhibition."
Marquis will also be making its first appearance at the Ricoh Arena as a SPATEX exhibitor this year, as part of two UK exhibition appearances, following successful outings at the International Pool Spa Patio Expo in Florida, Piscine Global in Lyon, the UK Pool & Spa Expo in Birmingham, and The Pool & Spa Show in Atlantic City this week.
The Marquis exhibition team will be promoting the brand's Dealer Direct scheme for current and prospective dealerships plus showcasing its new Aquatic Training Vessel (ATV) model, which was on display at the USA and France-hosted exhibitions and recent UK Pool & Spa Expo at the NEC, as a launch pad for its retailers to target the flourishing swim spa market.
Marquis Director of Global Sales Steve Hasenmueller put the ATV through its paces during the Consumer Day of the UKPSE and will also be on hand to discuss the multiple training capabilities of the new model during SPATEX as well as highlight the manufacturer's entry-level product line, Celebrity Hot Tubs, to visitors.
Thanks to the Marquis manufacturing capability, Microsilk technology has been included in a selection of the brand's hot tubs. The company's exhibition stand will be highlighting the flourishing demand for the Microsilk system, as well as helping to promote booming demand for all of its products during 2014,.
"Microsilk is the real deal that has exploded in the USA for us and we will be using SPATEX to promote the technology and highlight that it is doing very well in UK and Europe," said Steve.
"We're also going to be showcasing our ATV (Aquatic Training Vessel) for 2015 on our stand at the Ricoh Arena in Coventry.
"Our Dealer Direct strategy is really flourishing in the UK and the introduction of our entry-level product line, Celebrity Hot Tubs, has also been an effective tool for our retailer network this year."
SCP UK's Spa Product Manager Paul Thomas has revealed that the company's extensive wet leisure range will be heavily promoted during SPATEX and there will also be a major focus on its range of leading hot tub brands, including Beachcomber, Cove Spas, Dynasty Spas, and Garden Leisure, which have been proving attractive to prospective dealers aiming to enter the industry as retailers during 2014.
"Our aim at SPATEX will be to highlight that SCP UK can provide a 'one-stop-shop' for retailers to cater for every aspect of their dealership demands," said Paul.
"We'll also be putting greater focus on our hot tub and swim spa brands at SPATEX and promoting the fact that we have a bumper catalogue of products and that we can provide a 'one-stop-shop' for retailers to cater for every aspect of their dealership demands.
"This year there is going to be a big promotion on the fun and games element, inflatable toys, spa bars and other hot tub products, so we will also be reflecting that marketing theme at SPATEX."
The Pollet Pool Group is among the exhibitors that will be aiming to build on consecutive appearances at SPATEX. A large stand has been booked to help enhance its uptake and distribution association with BAYROL and its new SpaTime water treatment range.
"We 'll have another big stand at SPATEX to build on the success we achieve at the Ricoh Arena last year," said PPG's Bayrol product expert and industry stalwart Jimmy Lamb.
Jimmy will be conducting the 'Water Treatment of Domestic Spas' topic during the last morning session of the dedicated Spa Day on the third and final day of SPATEX on Tuesday, February 3, as well as promoting SpaTime to prospective dealers.
"There has been a lot of take up of the SpaTime product from companies that are existing customers of PPG and also those that had a previous relationship with BAYROL. What we are aiming to do now is attract new customers to this water treatment brand."
Elite Spas will be returning to the event after a break as a regular exhibitor, to promote a new association with USA hot tub brand Aspen Spas, which was launched at the UK Pool & Spa Expo.
Issy Rickards Sanger and husband Kevin have booked into SPATEX to highlight their new models including an Obsession II from the St Louis-based manufacturer after making the decision to conclude their 11-year association with Sunbelt Spas.
"We've been talking with Aspen Spas for a while and we're now delighted to be promoting their awesome range in the UK," said Kevin.
Targeted exhibitors
Exhibitors targeting the hot tub and wet leisure industry (with stand details) include: AquaFinesse UK B1, Aqua Spa Supplies D3, Astralpool UK Ltd E50, British Swimming Pool Federation H1, Calorex Heat Pumps C14, Catalina Spas C4, Canadian Spas F38, Certikin International distributor of Caldera Spas D10 and D14, Compass Ceramic Pools (UK) C50, Complete Pool Controls (CPC) E8, Doric Marketing G19, Elite Spas B66, Golden Coast B18 and B32, ISPE A17, Hydrospares E7, ISPE A17, Lamotte Europe E2, Marquis C63, Plastica Ltd D36, Pollet Pool Group/Bayroll B14, PWTAG G36, Scarborough Spas E66, SCP UK Ltd distributors of Beachcomber and Dynasty Spas C32 and C35, Spa Crest Europe D51, STA H27, Swimex Enclosures D8, and Surex Ltd G10, Water Treatment Products Ltd E32, and Waterco Europe E20.
Doric Marketing is among the 'new recruits' that organisers have attracted for the 19th installment of the exhibition and Dorian Davies revealed that he will be attending SPATEX as part of a decision to undertake a two-exhibition strategy in the UK at the start of 2015.
"The wet leisure industry has been enjoying increased sales and positive exposure in the mainstream media and we're now looking forward to exhibiting our full range of Doric Marketing services during SPATEX," said Dorian.
"We'll be providing free marketing consultations to visitors to our stand throughout the three days of the SPATEX exhibition."
Hydrospares Director Rosie Cook is another exhibitor making her debut at SPATEX. Along with her brother, John Ellis, Rosie is planning to highlight the company's booming wet leisure supplies sales and increased demand for bespoke hot tub projects, while promoting a wide range of products as part of their ambitions to become a market leader.
"We have taken the decision to appear as an exhibitor at SPATEX in February as part of our strategy to become the number one wet leisure provider of not just the parts, but also the knowledge and the customer service," said Rosie.
"Things are going really well for us at the moment and we are getting more and more demand from architects than ever before for our bespoke Splash-Tec Spa system installation projects."
Heatstar's Mark Osman revealed that the company will be occupying a similar stand location after being among the high percentage of early pledges of support from previously loyal exhibitors for the return to Coventry.
"We've rebooked for SPATEX 2015 because we were happy with our stand position within the exhibition hall and also our hotel base at the De Vere," said Mark.
His company will be appearing on Stand E58 as part of the established exhibitor list with additional 'new recruits' in the expanded SPATEX line-up within Halls 1 and 2, which includes a wide array of associated wet leisure accessories, pool product, heating and water treatment suppliers.
Other exhibitors include: A&R Products A13, Alpha Industries B52, Aqua Stone Pool Finishes E33, Aqua Water Systems Ltd C16, Aquacher B35, Aquaflex Ltd F34, Aquamat Ltd D30, Aquatrac (UK) Ltd D63, Aquatrol Ltd F18, Ardex UK H11, Astralpool UK Ltd E50, Atmospheric Zone F41, Bosta UK Ltd F58, Bowman C37, Brenntag UK Group Ltd F31, Centurion Leisure Ltd B52A, Designworks Tiles D4, Doughboy UK H7, EPCO Ltd C66, Fairlocks Pool Products B50, Gullberg & Jansson D55, Herborner Pumpen Technik B37, Hygromatik F21, IPS Flow Systems A7, ITS Europe Ltd D2, Lighthouse Pools E40, Lovibond Tintometer E16, Lutz-Jesco F23, Menerga Ltd D66, MSI Mineral Supplies International F15, Munters Ltd D33, Niveko SRO C4, NSURE H5, OASE E14, Ocea Automatic Pool Covers D34, On Site Pool Linings G16, Palintest Ltd D32, Peraqua B16, Poollock Ltd F50, Procopi UK Ltd B33, Ram Tracking G34, Swan Analytical UK Ltd F14, Technics & Applications B2, The Mosaic Company C34, Tiling & Pool Projects (UK) Ltd G30, Tornado Systems Ltd F8, Unipools Group G22, Vortex  Distribution B55, and Waxman Ceramics B34.
Double training
Responding to the wet leisure industry demand for enhanced training, organisers have doubled up the training opportunities at this year's SPATEX as part of the professional tuition that will include dedicated hot tub guidance.
The popular ISPE Workshops, part of the traditional and essential aspect of SPATEX for many visitors will also have a new feel with 20 new titles and an update of a selection of the existing favourite seminars. Covering all areas of the pool and spa trade, the 2015 programme will also include session on new Standards and Guidance that affect all retailers and specialists in the spa and pool trade.
On the first day of SPATEX, Sunday, February 1, there will be a 'Course in Leak Detection', commencing at 11am. Also on Sunday at 3pm and then repeated again on Monday, February 2, at 2pm, Golden Coast will be organising its 'Marketing your Wet Leisure Business for Growth and Profit' talk by Marketing Manager Aren Grimshaw.
On Monday, February 2, there will be a 'Pool Plant Update' by STA, running from 11am to 1pm; while PWTAG is hosting the 'Keeping Pools Healthy – including combating Cryptosporidium.
Inaugural Spa Day
On Tuesday, February 3, the historic inaugural Spa Day will be rolled out for those retailers seeking professional advice from industry experts. For the first time the Spa Day will be running throughout the morning and afternoon when it makes its debut at SPATEX 2015.
The first session commences at 10am and the last session begins at 1:45pm. Times and subject topics, with expected duration times, are:
10am 'Spas for Business Use', Howard Gosling FISPE (30 minutes).
10:45am 'Water Treatment of Display Spas'; What are your responsibilities to your staff and customers? By Colin Jenkinson MISPE (30 minutes).
11:30am 'Water Treatment of Domestic Spas'. What to tell your customers. By Jimmy Lamb TnISPE(Cert) (20 minutes).
12:15pm 'Servicing Domestic Spas' What to do when it all goes wrong! By Phil Barlow MISPE (20 minute session)
1pm 'Commercial Spa Legislation' With reference to the HSE/HPA publication 'Management of Spa Pools', the authoritative document regarding commercial spas. Its contents form the basis for operating a spa/hot tub correctly. By Allen Wilson FISPE (20 minute session).
1:45pm 'SpaSchool – Open Forum' An informal closing session where a panel, featuring the day's speakers, will take questions from the floor (20 minute session).
Supporting partner
Once again, Hot Tub Retailer magazine will be among the exhibition sponsors and media partners for SPATEX.
HTR Editor-in-Chief Nick Clamp believes the extra focus by SPATEX on the hot tub and swim spa market with a dedicated SPA Day, will help to attract visitors and enhance the exhibition ahead of its 20th anniversary in 2016.
"SPATEX organisers have been pulling out all the stops to increase the popularity of this long-running exhibition ahead of it marking two decades of promotion for the wet leisure industry," says Nick.
"As always, we hope that the industry will be coming out in force to support the SPATEX exhibition. Dealers have the opportunity to enhance their showroom product ranges with some exciting new launches from high-profile exhibitors who have made a strong commitment to the industry by attending this exhibition.
"There is a growing influx of new retailers who are likely to be going to be attending SPATEX on a fact finding mission to gain advice from established brands, while taking advantage of the new products and dealer opportunities that the industry will be introducing to the market this year.
"Good luck to the SPATEX organisers and all exhibitors."
Opening times
Similar to the first appearance at the Ricoh Arena, SPATEX 2015 opening times for the first two days of the exhibition will be 9:30am on Sunday and Monday. Both days are then scheduled to officially finish at 5pm. In keeping with tradition, there is a shorter day on the third and final day on Tuesday, which will run from 9:30am to 4pm.