SPATEX exhibitor promoting distributor status
Loyal SPATEX exhibitor and hot tub product specialist Golden Coast has been named as the exclusive distributor for one of the world's most robust step systems ahead of a successive appearance at the wet leisure showcase.
Once again GoldenCoast is among the staunch list of supporters of SPATEX that is being hosted over three days as part of a new mid-week schedule, running from Tuesday, January 31, to Thursday, February 2, in the Ericsson Exhibition Hall of the Ricoh Arena in Coventry.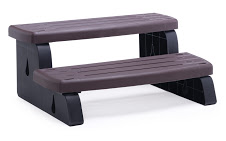 Among many other products, Golden Coast will be promoting its new distributor status for the Waterway's spa steps, pictured, which have been designed to be as durable as they are robust, during the 21st anniversary edition of SPATEX that is being proclaimed as being a 'must-attend' event for anyone involved in the hot tub business.
Getting in and out of the spa can be tricky at the best of times, which is why Golden Coast have added the Waterway's step systems for spas and hot tubs to its Essentials collection of spa and hot tub accessories.
A range of colour options are available to match a wide range of surrounds. Inspired by the colours of California, where the steps are manufactured, the choice of colours include: bark; cinnamon; graphite; redwood; coastal grey and charcoal. Colour-chip sample sets are also available to help suppliers promote the product.
"It's not good for you, your confidence or your ego, when you feel spa steps bowing and swaying under your weight…and we wanted to address this for our customers," said GoldenCoast managing director Jamie Adams.
"With an astonishing capacity of 800 lbs (363 kg) per step, Waterway's spa steps are – without doubt – one of the world's most robust.
"Unlike some systems, which, under weight, can bend and warp underfoot, these steps remain firm and solid.
 "What's more, its 33-inch treads are non-slip features 33-inch non-slip treads – meaning your customers can enter and exit their hot tub or spa with absolute confidence."
To book stand space for SPATEX 2017 contact the SPATEX team via email: helen@spatex.co.uk or michele@spatex.co.uk or telephone directly on: +44 (0) 1264 358558.