SPATEX next stop for Spanish manufacturer
Spanish hot tub and swim spa manufacturer Aquavia Spa will be following up an appearance at Piscine Global with a successive outing as an exhibitor at SPATEX to boost its presence in the British market.
In recent years the hot tub and swim spa specialist manufacturer has invested heavily in its Barcelona-based factory in an effort to product unique designs that will be specifically attractive to dealers and their customers in the European market. Last week the manufacturer showcased its products to the international trade audience at Piscine Global in Lyon and is now focussing on ramping up its UK promotional activities in the New Year.
Earlier this year the company attended the 20th edition of SPATEX to highlight its 'Made in Europe' credentials to prospective retailers and will be aiming to increase its fledgling British dealer network at the 2017 outing running from Tuesday, January 31, to Thursday, February 2 at the Ricoh Arena in Coventry.
Among the many options for current and prospect dealers is the new stylish Cube Ergo, which has been recently included in the manufacturer's growing range, which includes the Wave, Barcelona, Quantum and Cube hot tub designs; as well as the Atlantic, Yucatan, Amazon, and Madagascar swim spa models that have just been joined by a new Swimspa Exercise model.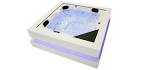 Coming in at 231 x 231 x 78cm, the Cube Ergo is the latest evolution of the manufacturer's Cube design, which has the same dimensions, and has been launched as a unique and stylish white model with three seats and two loungers. It incorporates Balboa controls, 28 jets and 14 air nozzles; as well as five LED lights with various colour sequences.
This lighting design feature is fully synchronised with the cabinet's exterior lighting to ensure the Cube Ergo makes an impact during the day and especially at night. Crystal clear water is maintained with the help of a user-friendly cartridge filter filtration system, combined with ultraviolet light-based water disinfection system technology.
It is another major product statement by the manufacturer, which has developed a new Flexible Massage system for selective hot tub models and increased its profile in the wet leisure market by collaborating in the first edition of the Piscina & Wellness Forum in Madrid organised by the Spanish Association of Pool Sector Professionals (ASOFAP) and Fira de Barcelona earlier this month.
Five years ago the company made an impact in the market when it launched its four-seater Cube design during Piscina 2011. It has since been heavily promoted to the British market and prospective dealers after gaining a WhatSpa? Best Buy Award in the £12,000 + price category of the consumer magazine.
Over a decade ago a multi-million euro injection of capital funding was the catalyst to creating a cutting-edge Aquavia Spa production facility in Cervera near Barcelona to compete with established international hot tub and swim spa manufacturers and flourishing European brands. In the intervening years the brand has achieved the WhatSpa? Best Buy Award accolade recognition and expanded its dealer network following appearances at international exhibitions.
Additional diverse hot tub and swim spa models, with unique features, have been created at the Spanish factory to compete with the historic brands that have cornered the global and European markets. Dedicated ranges include the Exclusive, for owners requiring sophisticated design; Premium, with elegant and fully-equipped models; Aqualife, providing contemporary functionality and value; Inground options, as well as the Professional range for commercial and public use.
A new Flexible Massage system has also been incorporated by the manufacturer in the Wave, Sunset and Nice models. It can be optionally configured in one of the seats or loungers and allows the massage to be sequential, while simulating the movement of hands along the entire body.
There are nine different programmes that are assigned from an additional control panel. Not only does this allow users to select the programme, but it can also regulate the speed of changing from one position to another.
"We can offer dealers a wide range of quality models and designs that are all manufactured in Europe," said Aquavia Spa Company Manager Artur Deu.
"We've created a wide range of unique product options that have a stylish and modern appeal.
"At Aquavia Spa, we work constantly to develop our products, seeking the best hydromassage for each area of the body. And not just that, we have also developed a new system called Flexible Massage.
"With this new system we have achieved sequential massage, simulating the movement of hands along the entire body."
Artur will be available to discuss the dealer opportunities for the Aquavia Spa range at SPATEX 2017 running from Tuesday, January 31, to Thursday, February 2 at the Ricoh Arena in Coventry.
To book stand space for SPATEX 2017 contact the SPATEX team via email: helen@spatex.co.uk or michele@spatex.co.uk or telephone directly on: +44 (0) 1264 358558.